72 total views
Consumers are looking to insurance companies to act on the world's biggest challenges, such as climate change, ageing populations, and healthcare gaps. They also strongly want to reduce risks in their lives, according to Bain and Company's survey.
A majority (80%) of consumers said they want insurers to embed environmental, social, and corporate governance (ESG) initiatives into their proposition. More than half (59%) would like insurers to reward them for healthy living.
Although respondents expressed an overwhelming preference for risk prevention services in auto, home, life, and health insurance, few use the current offerings in the market.
Only 4.3% in the US said they took up the services from their insurers, while figures were dismal for Singapore (4.1%), Switzerland (2.7%), Japan, (2.5%), and the UK (2.1%).
Bain and Company, a global management consulting firm, commissioned the survey from Dynata, which polled 28,765 respondents in 14 countries.
"Consumers need more. The [traditional premise where] insurance just provides capital for covering losses doesn't satisfy anymore," said Tanja Brettel (pictured above), practice executive vice president at Bain and Company, at the Insurtech Insights Europe conference in London earlier this month.
Turbulence, uncertainty accelerate consumer shifts
Consumer interest in ESG has risen partly due to intense turbulence and uncertainty in recent years, according to Bain and Company's report.
"Extreme weather events, disease and the Covid-19 pandemic, ageing populations, and technological disruptions are combining to radically change the risk landscape, both through more risks and different types of risk," the report said.
The confluence of all these factors has triggered an identity crisis for insurance companies as they face heightened demand over what Bain and Company calls the "functional elements" of their value proposition.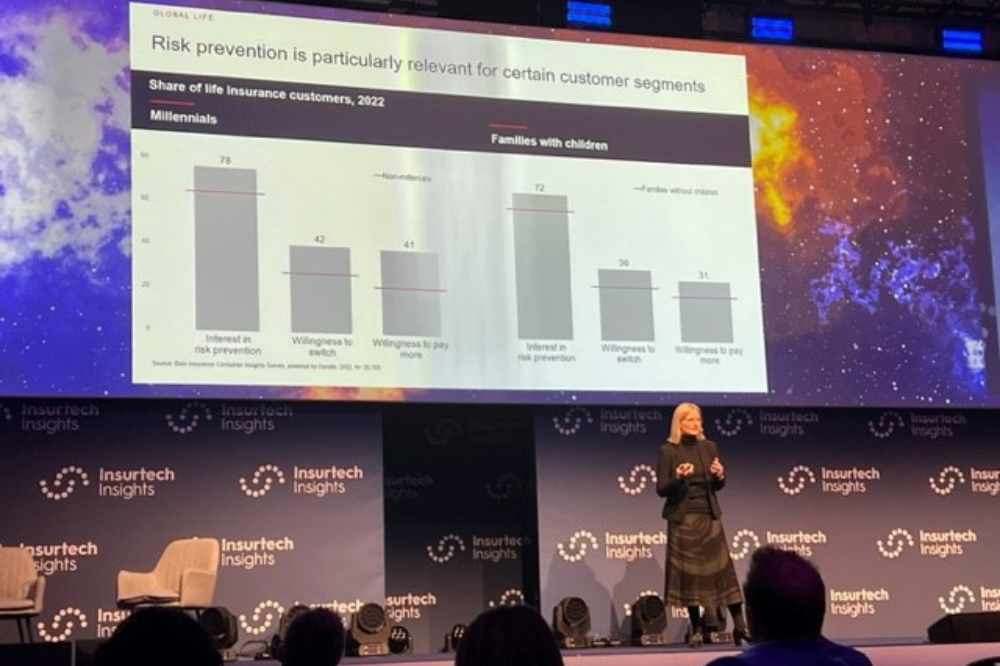 Reducing risk, bringing ease and convenience, and paying out claims are just a few of the core offerings that consumers expect their insurers to deliver. But companies must quickly evolve to offer better social impact, life-changing, and emotional value to stay relevant.
"It's so hard to get the basics right. But consumers still want more," Brettel told the audience at Insurtech Insights Europe.
"They want to be rewarded, they want companies to be ethical, and they want their insurance company to invest in their wellbeing."
Why are risk prevention services from insurers not connecting?
Risk mitigation and prevention is the new frontier for insurers, according to Bain and Company's report. But if consumers want to be proactive about reducing their risks, why aren't they leveraging services by their insurers?
It might be because many risk prevention offerings are centred on the insurance policy and not the customer, said Brettel.
One case study has demonstrated the power of an insurance service that keeps the focus on customer needs. Life and health insurer AIA's Vitality app saw more than 300,000 sign-ups in the first year it launched. The app, which caters to young families in Thailand, offers wellness information, trackers for family events and vaccines, and online parenting forums.
"They started with the customer, and not by thinking of ways to get their products in the world. They picked a segment with unmet needs and tailored their offering around it," Brettel said.
From "push" to "pull" distribution model
As insurers redefine their role and value in the market, agents and brokers have a key role to play.
According to Bain and Company's report, carriers will need to shift their distribution model from "push" (which focuses on acquisition) to "pull" (which uses data and analytics to address customers' needs and priorities).
This means brokers and agents will see their ways of working changing dramatically, spending less time on low-value tasks and homing in on building relationships with their carrier partners.
"In many markets, the traditional sales force plays an incredibly important role, not only to drive adoption, but also to create more sales and convert from online to offline," said Brettel.
Redefining the role of insurance
The shift to risk prevention and purpose-driven business will take time for most organisations. Brettel warned leaders shouldn't expect immediate profitability from this pivot. But she stressed that the long-term result will be worth it.
"Don't expect it to be profitable in year one. It takes patience to build that. What's important is that you focus on defining what your path to monetisation is," she said.
"This is about the customers. This is about redefining the value you deliver to customers. Customer desirability should be front and centre."
Do you agree with Bain and Company's findings on insurance customer expectations? Share your thoughts below.
News
What is the highest workers comp settlement in the US? | Insurance Business America Guides What is the highest…