76 total views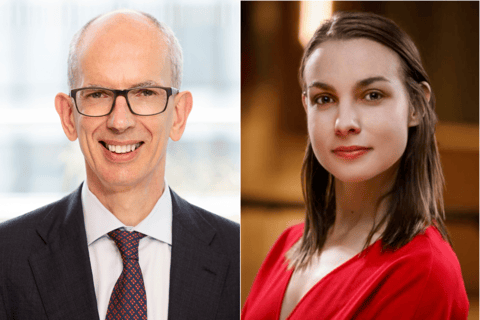 As the world at large moves towards compliance with environmental, social, and governance (ESG) principles, it is inevitable that some companies will try to "game the system" to better appeal to their respective industries without incurring the costs associated with such changes.
It's a practice commonly known as "greenwashing" and as noted by Nigel Brook (pictured above left), partner, and Zaneta Sedilekova (pictured above right), associate, at Clyde & Co, the intentions of those engaging in greenwashing can range from the simply misguided to the outright malicious. Whatever the motivations may be, however, one thing's for certain – it has ramifications.
"Greenwashing can take many forms, all of which share the same feature – misrepresentation about the green credential of the company, intentional or otherwise," Brook said in conversation with Insurance Business's Corporate Risk channel. "The typical examples of greenwashing include misleading advertisements that can result in a breach of consumer protection laws, or incomplete/inadequate disclosures in company prospectus, which may lead to securities litigation by shareholders."
Imagine a scale with "legitimate sustainability efforts" on the left and "greenwashing" on the right, Brook said. What slides these efforts from left to right is the level of diligence undertaken by the company in preparing its green statements.
"Is there evidence to back up green claims?" Brook said. "What analysis of impacts has been made and on what timescale? Are the company's efforts sufficient to meet regulatory or stakeholder-led requirements and emerging standards?"
These are some of the questions that first come to head when assessing the risk of greenwashing.
ESG compliance – transparency, accuracy, and diligence
In a field as wide as ESG is, there are bound to be elements to get right or wrong. However, while successful compliance means a sustainable, more appealing entity, the negative effects associated with mishaps can be very harmful. To combat these possible outcomes, there are standards a company must be aware of to avoid greenwashing.
"There are regulatory and legal standards for compliance in some areas and in others best practice standards or voluntary standards that a company should work to achieve," Sedilekova said. "In terms of risk of ESG-related greenwashing, transparency, accuracy and diligence are the best approaches to mitigate such risk."
Compliance can take on many forms, she said, the simplest of which is internal analysis of the facts mentioned in ESG statements. For instance, a company that makes a comparative statement that it has invested "more" into a particular green technology than its main competitors must be backed by an actual comparative market study.
"Accuracy of the language used in ESG statements is also important," Sedilekova said. "In most legal systems, words like 'green' and 'sustainable' do not yet have legal definitions despite being widely used by market players. As a result, if a green claim is challenged, the courts look at how ordinary people would understand such a word in the context in which it is used. So, it is always advisable for a company to either avoid unclear terms or define them for its own purposes in a clear, precise and easily accessible way."
Acknowledging the limitations of a company's ESG efforts is a great way to tell the industry that it is a work in progress, as well as noting their short-term and long-term impacts on the ESG impact factors. Sedilekova said that giving these efforts certain limits ensures they can be updated accordingly as per scientific and technological developments.
Risk worth taking?
Just how harmful are the effects if a company is found to be greenwashing? It appears that for most, fines are in order, Brook said, as seen in the case of German parent company Volkswagen AG having to pay $125 million in penalties for its false representations about compliance with Australian diesel emissions standards. However, there are some multiple other aspects to consider. Penalties, lost contracts, and even reputational harm can all weigh heavily on the offending entity, with effects severe enough to reflect on their financial performance.
"Even decisions by regulatory authorities that do not have power to impose penalties can cause significant losses to the company," Brook said. "These may take the shape of, for instance, forfeited advertising privileges when a company is ordered to withdraw its misleading ad, leading to lost costs of advertising campaign. If a company is found to have misled its investors in its statements or materials, directors could be held personally liable for such conduct."
As the internet, social media, and the speed at which news breaks have all become a standard in most people's lives, blows to a company's reputation may end up being the heaviest risk of all. Brook noted that companies found to have misled in their greenwashing can suffer significant reputational damage, further resulting in loss in consumer return or share value, one of the graver side effects of ecological virtue signaling.
Greenwashing across the pond
Despite being headquartered in the UK, Clyde & Co associate Sedilekova emphasized that greenwashing is a risk in many jurisdictions outside the country.
"Regulatory bodies and litigators are more active in some than in others, while regulators' powers to sanction can vary considerably around the world," she said.
In the UK, there's the Advertising Standards Authority (ASA), the body that most commonly deals with greenwashing allegations for consumer-facing advertising campaigns. It is the country's independent advertising regulator, although it does not have the power to levy fines. However, Sedilekova said, it "may ask publishers and media owners to refuse more space for an advertisement, or withdraw trading privileges, financial discounts and other incentives from advertisers."
Across the pond, the US typically challenges greenwashing with lawsuits alleging violation of consumer protection laws.
"California seems to be a hotspot for these claims, in which plaintiffs rely on California's Unfair Competition Law and Consumer Legal Remedies Act, as well as claims for common law breach of express warranty and unjust enrichment," Sedilekova said.
As for Australia, consumer protection laws are enforced by the Australian Competition and Consumer Commission (ACCC), a body which investigates alleged breaches and brings proceedings in the Federal Court of Australia on its own and on consumers' behalf.
Greenwashing, alleged or otherwise, in shareholding-facing materials is commonly challenged in securities actions across all three jurisdictions. Sedilekova recounted the case of Danimer Scientific shareholders in the US in 2021, when the group brought two separate shareholder derivative class actions against the company's board of directors and members of upper management. The suit challenged the company's claim that it uses biodegradable plastic alternatives in its water bottles, straws, food containers, and other items.
"In Australia, in the case of Abrahams v Commonwealth Bank of Australia (CBA), two shareholders sued the CBA for alleged greenwashing in an ESG Policy, which required CBA to assess the environmental, social, and economic impacts of projects, while it continued to invest in oil and gas projects," she said. "The cases seeking to hold directors accountable for greenwashing personally could be especially influential given their potential to influence corporate decision-making at the highest levels of management."
What are your thoughts on this story? Please feel free to share your comments below.
News
What is the highest workers comp settlement in the US? | Insurance Business America Guides What is the highest…