101 total views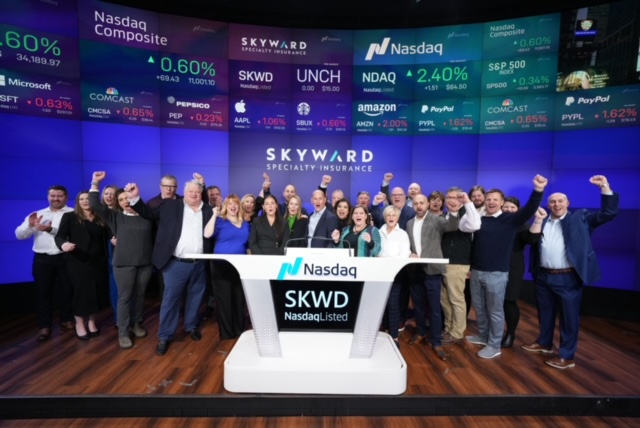 Speaking to Insurance Business from New York last Friday, Skyward CEO Andrew Robinson (pictured top) confirmed that all the business's staff were set to benefit through shares.
"We had the employees fully engaged in everything from the opening bell, through the first trade and interviews with various senior leaders," Robinson said.
"We announced to our employees that every single employee becomes a shareholder on the back of this transaction, which is a unique thing for a company to do – to allocate equity to every single employee.
"Those are kind of the mechanical things that we're doing, but what sits behind those mechanical [things], is almost a self-reinforcing, quite organic way that that this company engages [with] employees and I'm just hopeful that we keep it going because it really is our x factor."
In addition to the business's new owners, pre-existing backer Westaim, a Canadian investment business, has maintained around a 39% stake in Skyward, which rebranded from Houston International Insurance Group in 2020 after Robinson came onboard as CEO.
The Company is excited to provide the opportunity to share in its successes with its employees by awarding shares to every Skyward Specialty team member! #goingskyward pic.twitter.com/LViKR6dZC9

— Skyward Specialty Insurance (@SkywardInsuranc) January 13, 2023
Skyward Specialty's post-IPO growth plans
Skyward will use capital raised to boost growth and for corporate purposes, the business has said. Each of its eight underwriting arms have recently witnessed "double digit" growth, according to Robinson.
"We feel very good about that – that said, the world of insurance today is a series of micro cycles, not a single macro cycle," the CEO said.
"In every underwriting division, we have different pricing dynamics, we're in a changing economic backdrop, and so you have a different exposure environment as well."
Diversification has been "really helpful", and the business will grow in whichever of its underwriting divisions it sees the most opportunity, Robinson said.
While he declined to "highlight one over the other" in terms of divisional growth focus moving forwards, Robinson did confirm the business's three fastest growing units.
"For some time now, there have been three areas of major investment for us, which is our transactional E&S, our professional liability, and our surety underwriting divisions," Robinson said.
"They are the three smallest as well, they probably have the greatest growth velocity; we're hopeful that continues, but we feel really good about the growth prospects in nearly every part of our business."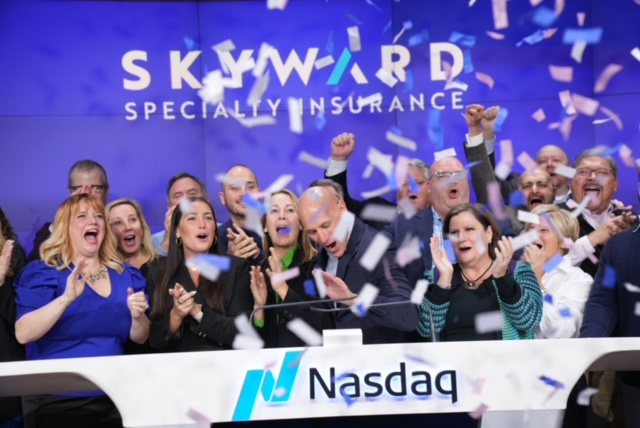 Should brokers expect changes at Skyward post-IPO?
While the IPO itself is not expected to have any material impact for the business's distribution partners, it does herald the "next step" for Skyward in terms of growth and strategy continuity, Robinson said.
"Our thinking here is there's plenty of opportunity to further grow and develop our business to do more for our distribution partners or customers," Robinson said.
Talent, finding places where the business can have a "meaningful impact", and investment in technology to improve and speed up the broker service experience will remain high on the strategic agenda, according to Robinson.
"All those things that are core to our strategy are things that we can accelerate and do more of, with the added benefit of having the capital flexibility of a public company," Robinson said.
Last year saw an IPO slowdown following a record 2021, Reuters has reported.
Other insurance market players – and those further afield – are likely to be watching the Skyward transaction as they mull their own potential IPO plans, sources and reports have suggested, though Robinson declined to be drawn on what the rest of the market might be thinking.
"I can only worry about us," the CEO said, as he acknowledged that this has been a hot topic in the press.
Why insurtech IPO difficulties have not jaded Skyward
In recent years, insurtechs have dominated the insurance IPO scene – and while some entered with a bang, longer term share price performance has been broadly seen as disappointing. For Robinson, insurtechs and Skyward have little in common.
"I don't think that the performance of the many insurtechs that have gone public who have massively underperformed really has much to do with us at all," Robinson said.
"We're building an underwriting-led, specialty commercial focused insurer – we believe that what we're building is all about delivering great underwriting outcomes, doing it at a level that will perform at all parts of the market cycle, and as such we are positioned to become one of the few very highly valued, specialty insurance companies.
"Rather than looking at the insurtechs, what we do is we look at the really great specialty insurance companies and we use that as our North Star."
A culture continuation
Robinson has billed the business as having a "compassionate" and "winning" culture, and he said that maintaining this will be key to Skyward's continued success post-IPO.
"What I'm most concerned about, more than anything, is not losing our culture," the CEO said. "We have built a culture and an engagement and loyalty among our employees that is uniquely our own."
Share your thoughts on Skyward's IPO and what it might mean for the rest of the market by leaving a comment below.
News
For new college graduates, receiving that first post-degree paycheck can be almost as exciting as getting the diploma itself.…