57 total views
According to the Daily Star, Nicholas Di Puma tried to put out a fire from a burning pan with a dishrag, but it also caught fire, so he took the pan and threw it out of his front door. Unfortunately, it landed on the backseat of his convertible setting it ablaze. A second pan also caught fire but as he was about to throw it out, he tripped over a box and the pan landed on his leather sofa, instantly igniting it.
Authorities were not convinced by his explanation, with the presiding judge describing the events as "like the plot of a Three Stooges movie." Di Puma pleaded guilty to second- and third-degree attempted insurance fraud. He was ordered to pay $37,997 in restitution and was sentenced to five years of probation.
9. Gerald Hardin – Choppy friendship
From comedy to horror. In May 2008, a South Carolina district court heard a case against Gerald Hardin, along with another person, who chopped off their friend's hand to cash in on a $671,000 dismemberment claim. According to FBI records, the duo used a pole saw to cut off the hand of their accomplice, the mentally challenged Michael Weaver, who then submitted a claim against his home insurance policy, along with three accidental death and dismemberment policies.
Weaver reportedly viewed Hardin as a father figure and agreed to have his hand sawed off so Hardin, a known drug user, could claim compensation for the accident on six different policies. Hardin was sentenced to five years in prison for the crime.
That doesn't seem like enough prison time… Head down to the comments section if you feel like it should have been more and let us know your thoughts.
8. John and Anne Darwin – the case of the Canoe Conman
One of the most infamous cases of life insurance frauds is that of Brit couple John and Anne Darwin, whose notoriety has inspired several documentaries. Drowning in debt, the couple realized that their obligations would be wiped out if John faked his own death. Anne helped her husband in doing so in 2002, when John reportedly disappeared in a canoeing accident.
Anne cashed in on £680,000 worth of life insurance claims and paid their debts. The couple then started a new life in Panama under a false identity. Eventually, the pair was caught because of a social media post. They were each sentenced to six years in prison.
7. Imad and Bahaad Dawara – Arson fail
Straight out of the Coalition Against Insurance Fraud's (CAIF) Hall of Shame list are brothers Iwad and Bahaa Dawara. The Philadelphia siblings attempted to save their fizzling hookah bar business by torching the place and cashing in on a $750,000 accidental fire coverage they took out just a few weeks before.
The brothers, however, botched their insurance fraud attempt worse than they ran their hookah bar. Their act of arson ruined an old scenic neighborhood in Chestnut Street, shutting it down for months and causing several businesses to permanently close and dozens of workers to lose their jobs. The brothers were handed nine-year prison sentences and ordered to pay $22 million in restitution for the crime. All over a hookah bar that was supposed to go up in smoke, but instead went up in flames.
6. Andy House – Where's the pelican?
In 2009, luxury car dealer Andy House drove his $1 million Bugatti Veyron into a swamp, hoping to collect a whopping $2.2 million in payout, in arguably among the least thought-out car insurance frauds of all time. House claimed that he lost control of his vehicle when he tried to avoid a pelican, causing him to swerve off the road and into a nearby swamp. The car sustained unfixable damages.
The Bugatti Veyron is an extremely rare luxury car, with only 300 models manufactured in 2006. It is also among the most powerful, being able to accelerate up to 235mph. Unfortunately for House, a passenger in another vehicle – a fervent admirer of luxury cars – noticed the Bugatti and recorded the incident on his phone. This ruined House's fraud attempt, as the video showed there were no pelicans when the claim occurred.
5. Harry Gordon – Dead man hiking
In 2000, Australian millionaire Harry Gordon tried to secure a AU$3.5 million payout from his life insurance policy by – bet you're expecting this one – faking his own death. Aided by his wife, Sheila, and daughter, Josaphine, they cashed in on the claim. Harry used the proceeds to start a new life in New Zealand, where he met his second wife.
The situation unraveled, however, after Harry and his new wife bumped into his brother, Michael, on a hiking trip in Tauranga. Things quickly escalated from there when Michael told Sheila about Harry's new wife. Australian authorities later uncovered the fraud and Harry was arrested and sentenced to 15 months in jail after pleading guilty to conspiring to obtain money by deception, among other charges. He later went on to write a book aptly titled How I Faked My Own Death and Did Not Get Away with It.
4. Atul Shah and Mahaveer Kankariya – Snatch copycats
To save their floundering jewelry business, New York business partners Atul Shah and Mahaveer Kankariya laid out an elaborate plan to rob their own store. Disguised in Hasidic Jew costumes – copied from the opening scene of the Guy Ritchie film Snatch – the duo staged the fake heist in December 2008 and then filed a $7 million claim with their insurer, Lloyd's of London. To cover their tracks, the men poured drain cleaner into security cameras, hoping to destroy any incriminating evidence.
The scheme came apart, however, when law enforcement authorities were able to salvage footage, which showed both men entering their safe and removing jewelry a few hours before the supposed burglary. The pair was convicted of insurance fraud in the first degree, attempted grand larceny, and falsifying business records in March 2011.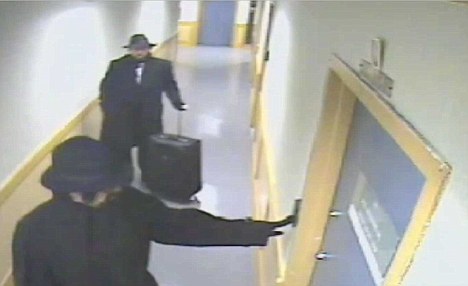 3. Jacques Roy – Medicare mayhem
In 2017, Texas physician Jacques Roy received a 35-year sentence and was ordered to pay $268 million for masterminding one of the biggest health insurance frauds of all time.
According to an FBI report, Roy and his accomplices scammed Medicare to the tune of $375 million by performing unnecessary home visits, ordering medical services for healthy patients, and submitting fraudulent claims between 2004 and 2011. Reports also suggest that the scheme generated hundreds of false claims daily before the deception was uncovered.
2. Eric Conn – American greed
Crippled and impoverished Kentucky residents trusted that local attorney Eric Conn would help them secure federal disability money. Instead, the small-town lawyer betrayed them in a massive $550 million Social Security fraud – the largest in history.
In an unbelievable display of greed, Conn conned the Social Security Administration (SSA) into paying disability benefits to thousands of healthy people by making illegal payments to Social Security Administrative Law Judge David Daugherty, who essentially rubber-stamped the claims. When the scheme was uncovered, SSA suspended disability payments to about 1,700 recipients, which left those who truly needed the money in desperate straits.
In 2017, Conn pleaded guilty to a two-count federal complaint of stealing from the government and paying illegal gratuities and was sentenced to 12 years in prison, according to a CNBC report.
1. Ali Elmezayen – Heartless murderer
This case topped the list of worst insurance frauds not because of the money involved but due to the sheer vileness of the act.
In 2015, California resident Ali Elmezayen staged a freak car accident, which took the lives of his two autistic children and nearly drowned his wife. He cashed in on a $260,000 payout and used part of the money to buy real estate in his native Egypt and a boat.
Authorities later began to piece together evidence to prove that what happened was indeed stone-cold murder, including his frequent confirmation with the insurers about the window for investigating fraud and recorded conversations with his wife after their sons' deaths. Elmezayen was eventually sentenced to 212 years in prison for the murder of his children.
The Insurance Information Institute (Triple-I) defines insurance fraud as a "deliberate deception perpetrated against or by an insurance company or an agent for the purpose of financial gain." Such illegal acts may be committed by applicants, policyholders, third-party claimants, and even the insurance brokers and providers themselves.
You can also find the meaning behind the most common insurance terms in our handy guide.
According to the Triple-I, some of those who commit insurance fraud include:
Organized criminals who steal large sums through fraudulent business activities
Professionals and technicians who inflate service costs or charge for services not rendered
Ordinary people who want to cover their deductible or view filing a claim as an opportunity to make a little money
Common acts of insurance fraud these people perpetrate include:
"Padding" or inflating claims
Misrepresenting facts on an insurance application
Submitting claims for injuries or damage that never occurred
Staging accidents
Triple-I added that although the impact of insurance fraud can be felt across the industry, some sectors are more vulnerable than others. Among the industries most affected by fraud are healthcare, workers' compensation, and auto insurance.
Insurance fraud takes on different forms depending on the industry. Here are the most common types of fraud committed against various segments of the insurance sector, according to industry experts.
Auto insurance fraud
Premium leakage, or what the analytics firm Verisk defines as the "omitted or misstated underwriting information that leads to inaccurate rates," is among the most common and costliest acts of fraud in the car insurance sector. Recent modelling conducted by the company estimated that auto insurers lost at least $29 billion annually to what it called several "information failures and fraudulent practices." These include:
Unrecognized drivers ($10.3 billion)
Underestimated mileage ($5.4 billion)
Violations and accidents ($3.4 billion)
False garaging to save on premiums ($2.9 billion)
The financial impact of premium leakage, however, is not limited to insurance providers. Verisk's analysis also showed that as much as 14% of all personal auto premiums can be attributed to the cost of covering premium leakage.
Another practice that cost the auto insurance industry huge sums is padded claims. According to Triple-I, this usually happens in no-fault states, where "unscrupulous medical providers, attorneys, and others" pad expenses associated with legitimate claims. One example is billing an insurer for a medical procedure that was not performed.
The institute also received reports of counterfeit airbags being used by unscrupulous auto body repair shops, which then obtain reimbursement from insurance companies for legitimate airbags.
Health insurance frauds
The FBI's latest financial crimes report revealed the most prevalent types of fraud that plague the healthcare insurance sector. These include:
Billing for services not rendered
Upcoding services and medical items wherein the provider submits a bill using a code that yields a higher payment than for the service or item that was actually rendered
Filing duplicate claims
Unbundling or billing in a fragmented fashion for tests or procedures that are required to be billed together at a reduced cost
Performing excessive and unnecessary services, while offering kickbacks
Triple-I also cited the prevalence of health identity theft, where criminals steal a victim's name, health insurance number, and other personal data to defraud insurance providers by making false claims.
Workers' compensation insurance fraud
The most common acts of insurance fraud involving workers' compensation, according to Triple-I, include the following:
Employers misrepresenting their payroll or the type of work carried out by their employees to save on premiums
Employers applying for coverage under different names to avoid paying claims or detection of their poor claims record
Employees who "over-utilize" medical care to keep receiving lost income benefits or seek compensation for a work-related injury that never occurred
Here's a recent workers' insurance fraud we covered where a tradesperson failed to disclose the fact that he had recovered and was working a new job. That's fraud every time.
Catastrophe-related property insurance fraud
Disasters often provide an opportunity for fraudsters to file claims that are "exaggerated or completely false," the Triple-I notes. These include seeking payouts for an intentionally damaged property. Another example is contractor fraud, which involves using a person's homeowners' insurance to pay for unnecessary repairs.
You can read more about how disaster insurance helps with recovery in this article
What do you think of the 10 worst acts of insurance fraud on our list? Are there other cases that you believe are worthy of being included? Hit us up using the comments section below.
News
Oleg Opryshko / Shutterstock.com Paper towels have many uses. They're handy for wiping off counters, cleaning out microwaves or…