52 total views
In August 2022, American Airlines announced the newest iteration of its Admirals Club lounges. American Airlines "reimagined" these lounges to provide the feeling of "coming home," incorporating aspects like natural woods and open spaces.
The first of these new lounges opened in late-October 2022 in Washington, D.C.'s, Reagan National Airport. Naturally, we checked it out shortly after it opened to see if it lived up to the hype. Here's what to expect from the new American Airlines Admirals Club in DCA.
Lounge location and layout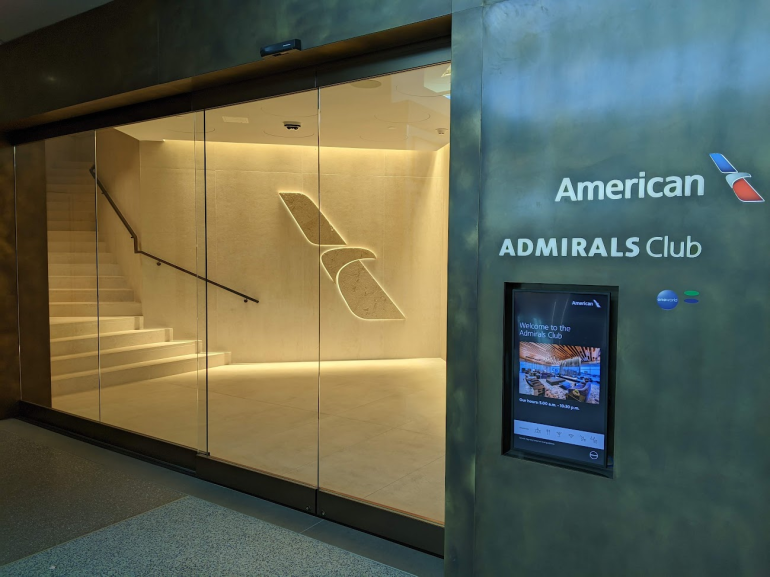 This reimagined Admirals Club is one of three Admirals Clubs in Washington, D.C.'s Reagan National Airport. To check out American Airlines' latest lounge experience, head toward the E gates. Just before you get to the first E gate, you'll find the lounge entrance on the left side of the concourse.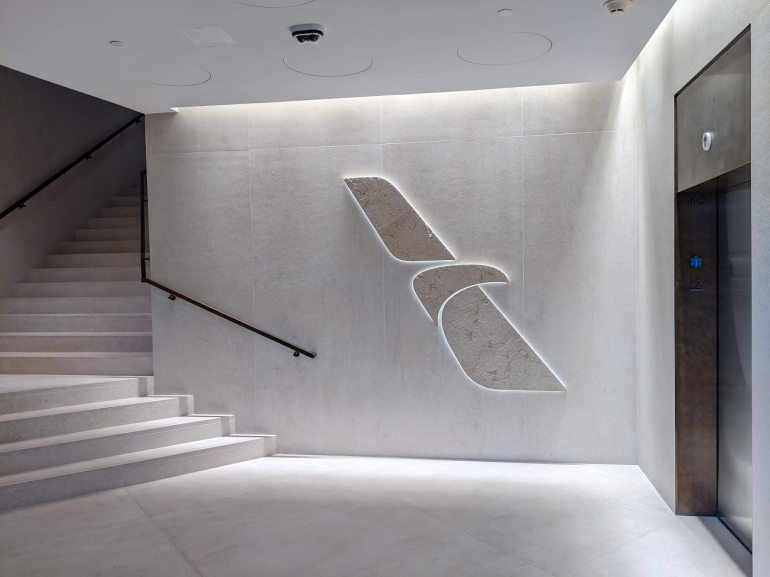 The lounge is located one floor above the terminal. Passengers can take steps or the elevator to the check-in desk. There, you'll need to utilize one of six ways of accessing Admirals Clubs — from being a cardholder of the Citi® / AAdvantage® Executive World Elite Mastercard® to buying a day pass — to enter the lounge.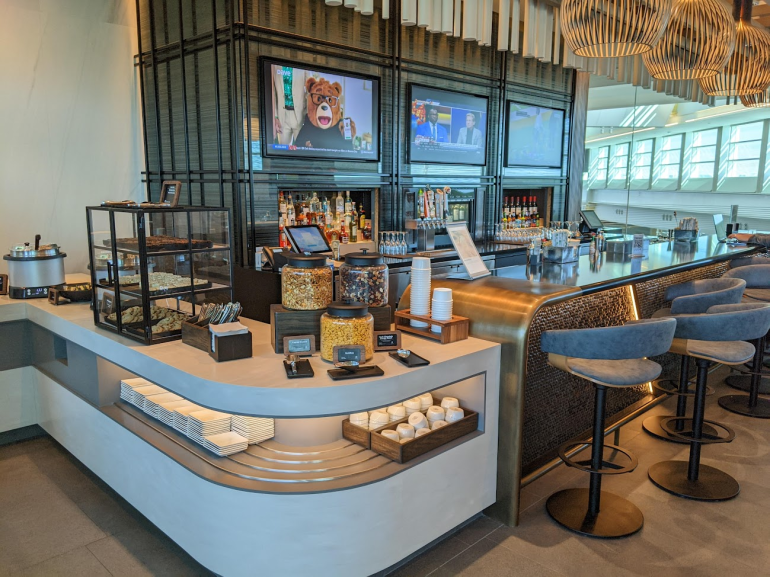 From the check-in desk, the lounge forks into two main areas. To the right of the check-in desk, you'll find the bar, coffee machines, snacks and warm food options, as well as a couple of seating areas, standing desks and bathrooms.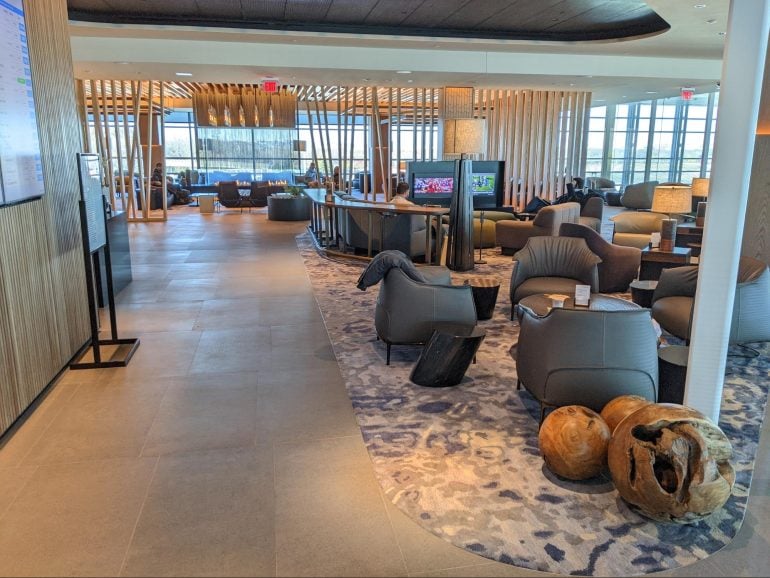 If you turn left, you'll find seating areas with runway and Washington, D.C., skyline views, the lounge's signature fireplace, American Airlines assistance agents, plenty of seating and a small bar of drinks and snacks.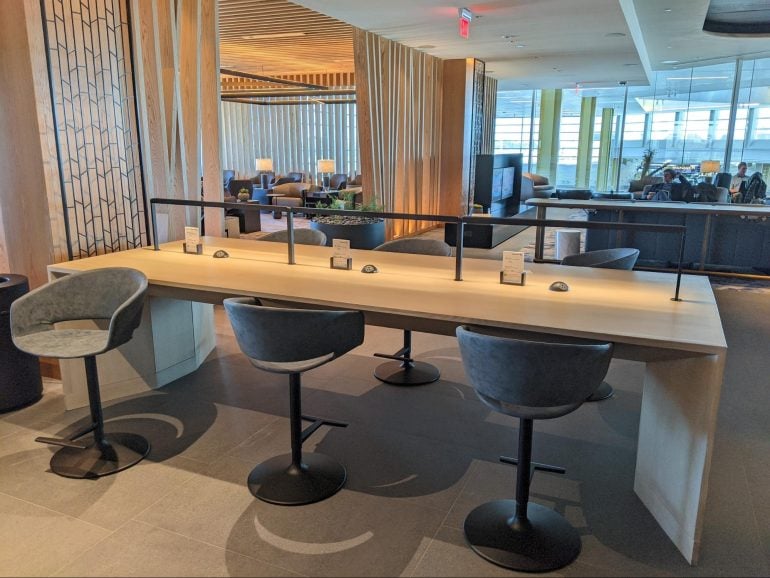 This lounge offers an impressive variety of seating types, from lounge chairs near the windows to working desks with stools.
If you don't find an appealing seat, just keep looking around the lounge. Chances are you'll find something that works for you in one of its many sections.
Food and drink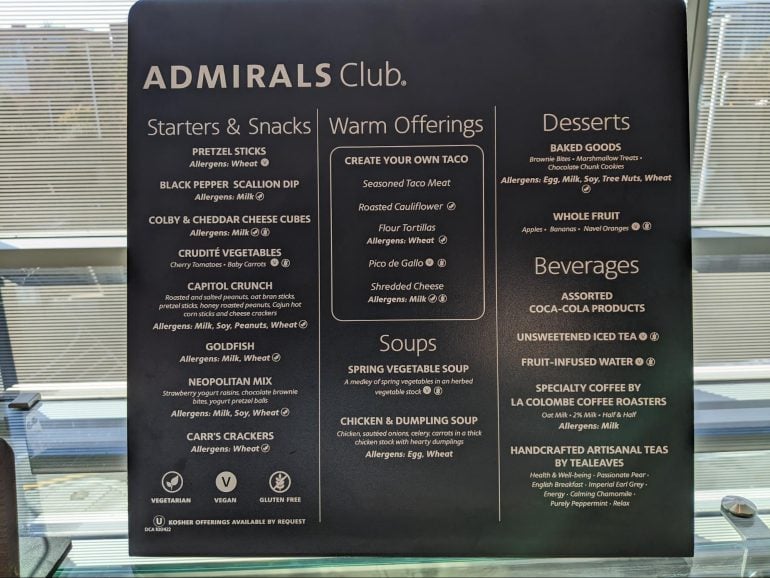 This new DCA lounge offers a slightly elevated food and drink service compared with other American Admirals Club locations. The full menu — along with allergies and dietary restrictions — are posted on a sign just above the food bar.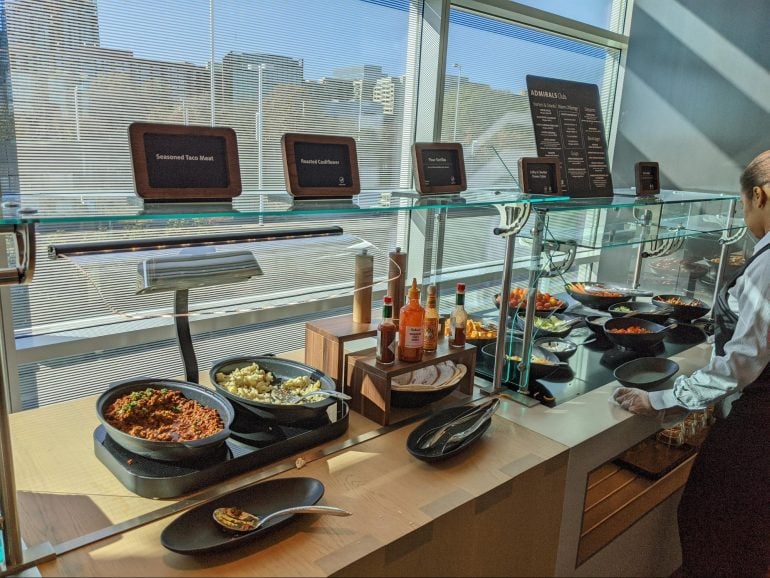 A warm food area offered a create-your-own taco bar and two warm soup options. In addition to standard taco staples, meatless options were also available. You could fill your taco with diced cauliflower instead of the minced meat if you wanted.
A dessert tower offered brownie bites, marshmallow bites and chocolate chip cookies.
Complimentary bar snacks included a nut and fruit mix, a peanuts and pretzel-based mix and crackers.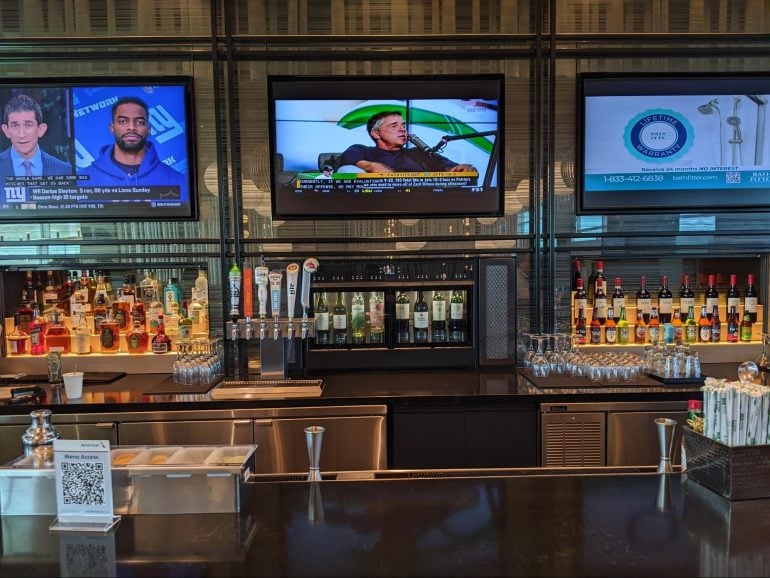 This Admirals Club bar is well stocked with draft and bottled beers, wines and a solid selection of liquors. Note that only domestic beer, house wines and well spirits are complimentary for most lounge guests.
Many Admirals Clubs serve made-to-order avocado toast in the mornings and guacamole in the afternoons. While no avocado-themed station was visible during my visit to this lounge, that could be a future addition.
Amenities
The main perk of an airline lounge is a place to relax, recharge and get a snack or drink. This newly redesigned lounge provides all of this — plus a little more.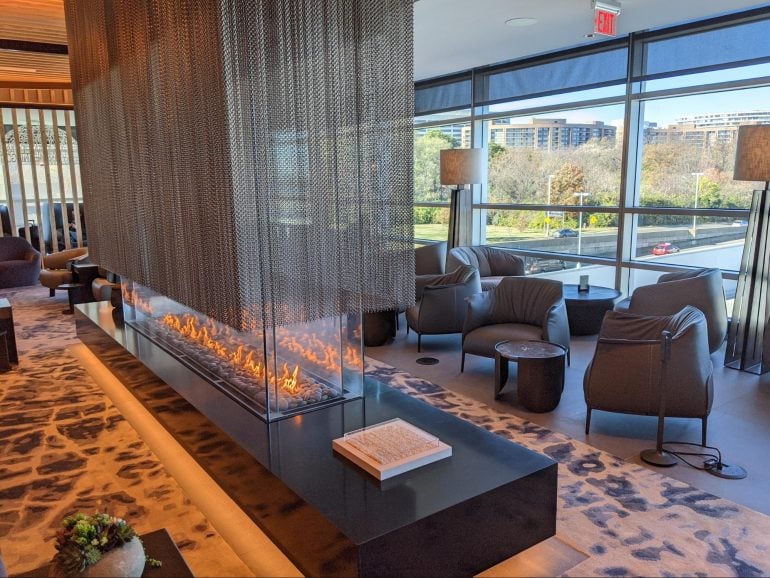 The signature feature of this lounge is a fireplace located toward the rear of the lounge. This elegant feature seems to be just for looks. I didn't notice that it was any warmer near the fireplace.
Power outlets were seamlessly spread throughout the lounge, almost blending in too well. For example, you might not immediately notice the black power outlets with all the black accents around the lounge.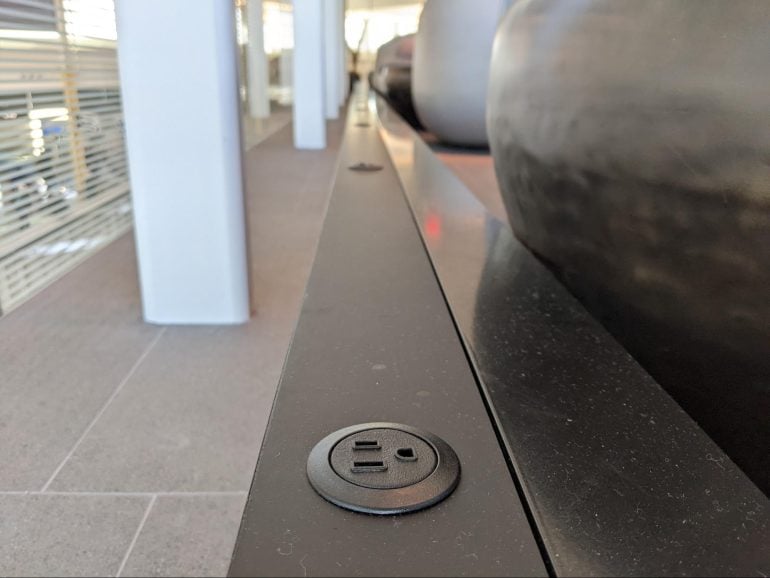 But chances are that there's a power outlet near you no matter where you sit. You might just need to look around a bit closer.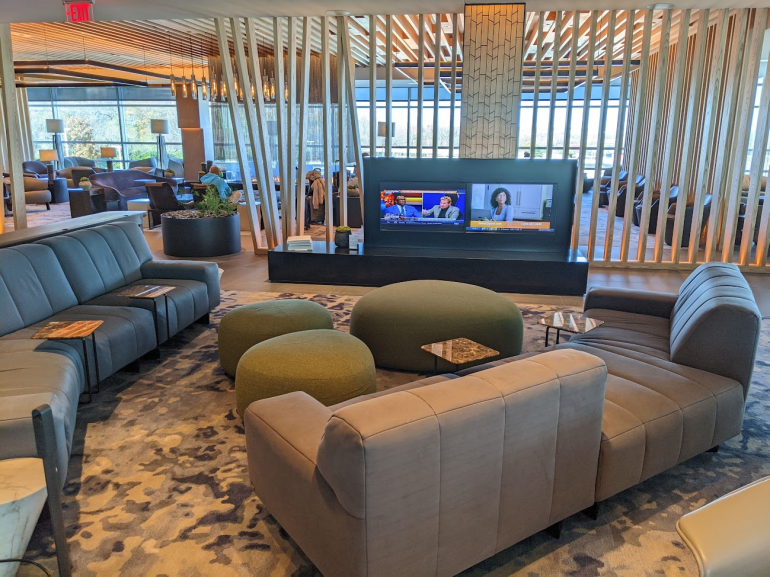 Lounge guests have a few places to catch the latest news or game, too. A living room area on the left side of the lounge offers multiple TVs. In addition, three TVs are installed over the bar.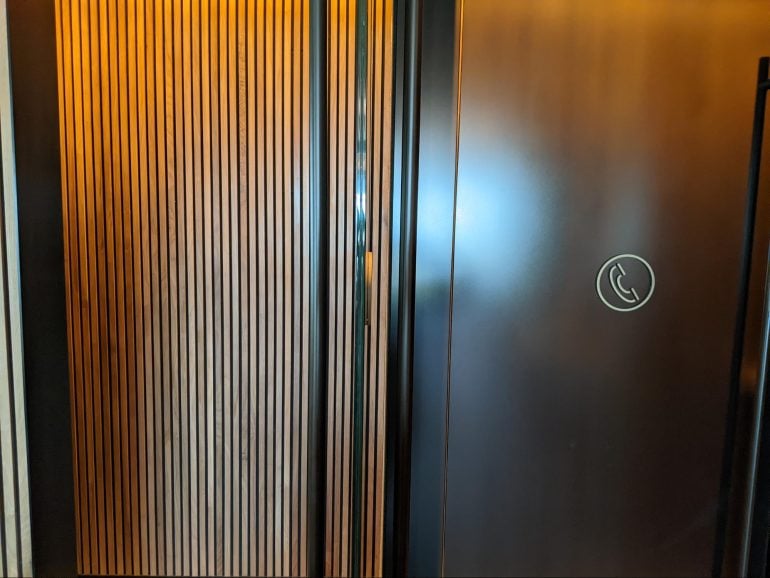 If you need to make or take a call, the new Admirals Club has three dedicated wood-paneled phone booths with closing doors. However, as one fellow lounge guest proved, these booths certainly aren't soundproof.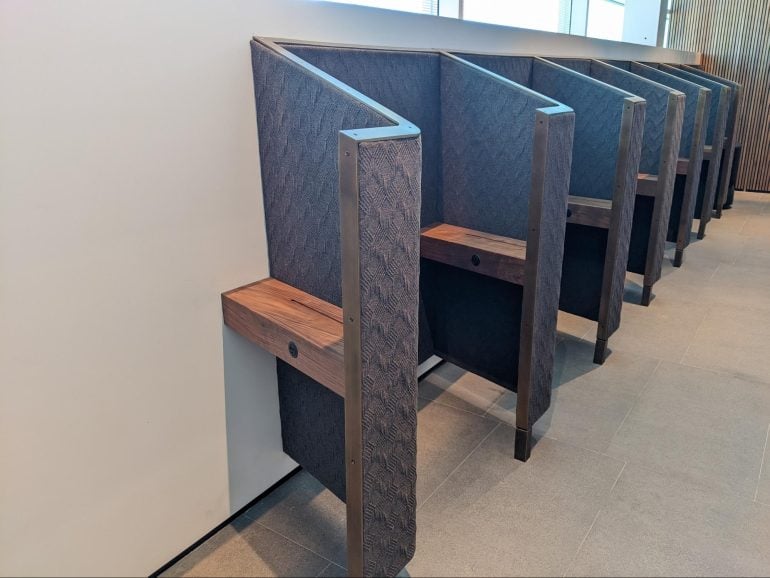 The lounge also provides a row of standup desks in the back of the lounge as another place to take a call.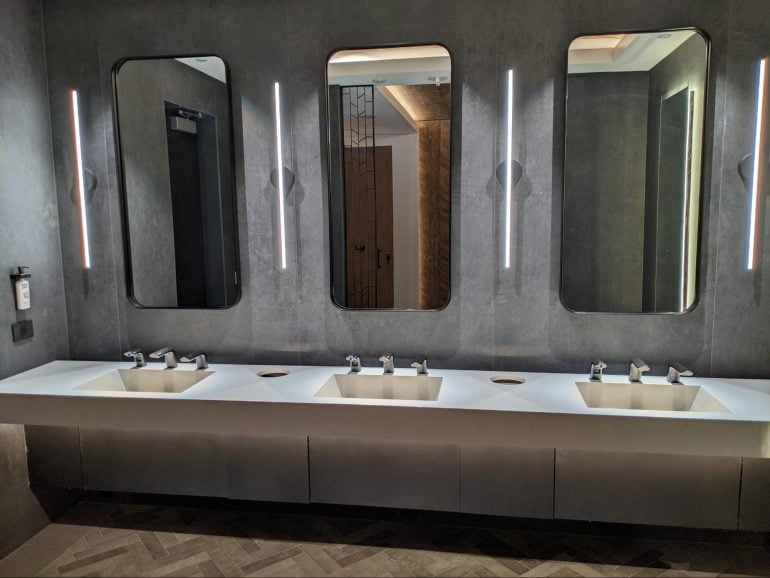 Bathrooms are sleek, elegant and well-designed with elements like bag/coat hooks, accessibility bars and touchless sensors.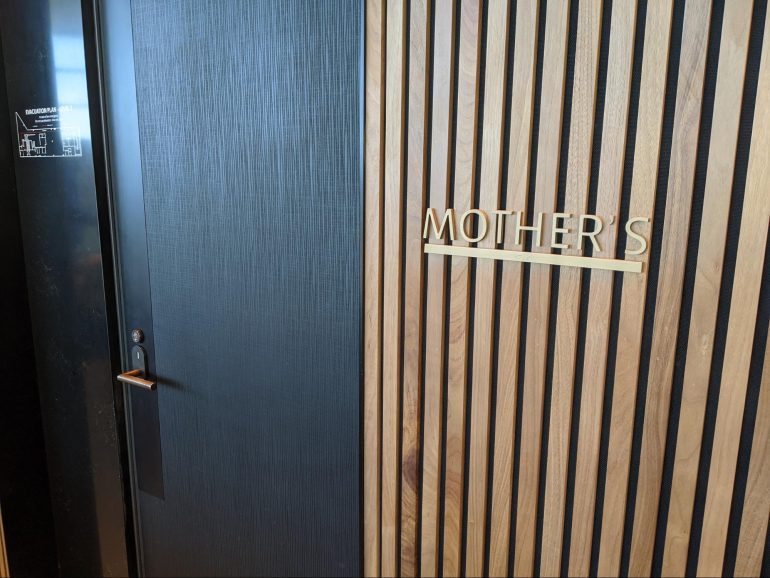 Young families can use a dedicated mother's room for breastfeeding or diaper changes — or just as a quiet room.
Although some American Airlines Admirals Club lounges offer showers, no shower rooms were installed at this location.
Service
From food service agents to American assistance agents, service was friendly and professional during my two-hour visit.
The lounge's staff worked to keep the lounge running efficiently, from restocking food to cleaning up plates and glasses. I wasn't the only one that noticed. As he made his rounds, I saw another passenger thank and tip the friendly gentleman that was collecting dishes.
How to access American Airlines Admirals Clubs
Whether you want to visit this location or one of the nearly 50 other American Airlines Admirals Club locations, you have options. Here's a quick recap of which American Airlines passengers get Admirals Club access:
Business and first class flyers get access when flying on qualifying international routes.
AAdvantage Platinum (and higher) elite members also get access when flying on qualifying international flights.

Even better, ConciergeKey members, AirPass members and Oneworld Sapphire and Emerald elites (excluding American and Alaska) can access Admirals Club lounges on any flight.

Purchase an Admirals Club membership costing $650 for a new individual membership.

Get the Citi® / AAdvantage® Executive World Elite Mastercard® — which charges a $450 annual fee.

Purchase a day pass for $59 or 5,900 AAdvantage miles.

U.S. military personnel traveling in uniform can also access Admirals Clubs when flying American Airlines.
The newly "reimagined" American Airlines Admirals Club, recapped
The reimagined American Airlines Admirals Club in Washington, D.C, lives up to the hype. The space is warm and welcoming, offering plenty of places to sit and relax or work. Food and drink options are better than your standard Admirals Club fare.
The lounge includes nice touches like phone booths and a family room. And you shouldn't struggle to find a place to recharge — whether it's your phone or yourself.
(Top photo courtesy of American Airlines)
How to maximize your rewards
News
Online marketing, a subgroup of digital marketing, uses the internet to promote a business and its products or services.…