22 total views
The Centurion Lounge at New York-LaGuardia Airport reopened in 2021, doubling from its initial size to 10,000 square feet. As commonly seen in all Centurion Lounges, the lounge at New York-LGA features locally inspired amenities, along with dining and cocktails curated by local chefs and mixologists.
Centurion Lounges provide a more upscale experience than other lounges accessible through credit card perks, such as Priority Pass lounges. In addition, Centurion Lounges are more exclusive (since admission is offered as a perk for only a handful of cards), which means they're generally less packed.
Centurion Lounges have a unique vibe and style that's visible throughout, giving continuity to the lounge experience across airports. This differs from Priority Pass lounges, which aren't owned by a single entity like American Express.
Although Centurion Lounges currently offer some of the nicest lounge experiences, Chase and Capital One are also looking to penetrate this market. Chase Sapphire Reserve lounges are slated to open in 2022 and 2023. Capital One opened its first lounge in Dallas/Fort Worth International Airport and additional lounges are planned. Access to Chase and Capital One lounges is also offered through associated credit cards.
Here's what to look forward to when visiting the Centurion Lounge at LGA.
Layout and seating areas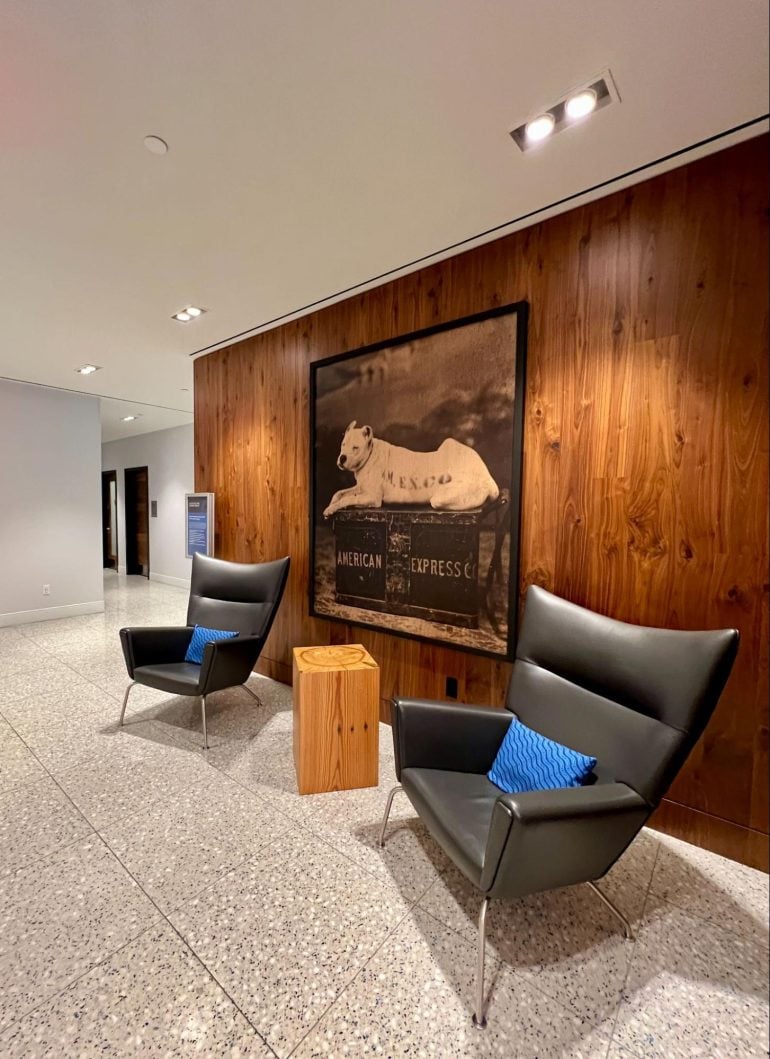 Once you enter the lounge, you'll find a business center on your left. On your right, there's seating with a large TV and a dining area. The business center and dining area overlook the airport, giving you a bird's-eye view inside the terminal.
There are also phone rooms, work desks and areas explicitly reserved for American Express Centurion Card holders.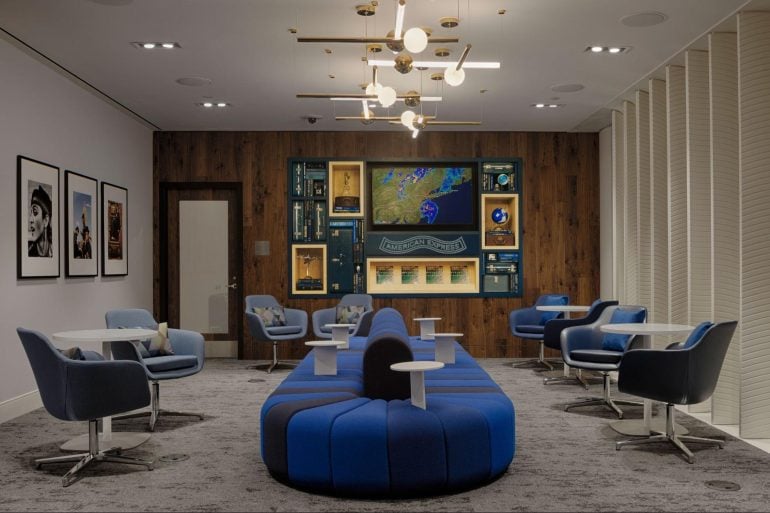 As you keep walking, you'll find open-space seating facing a large TV to your right. This room is designed around a unique couch island. The private room for American Express Centurion Cardholders is located through the door to the left of the TV.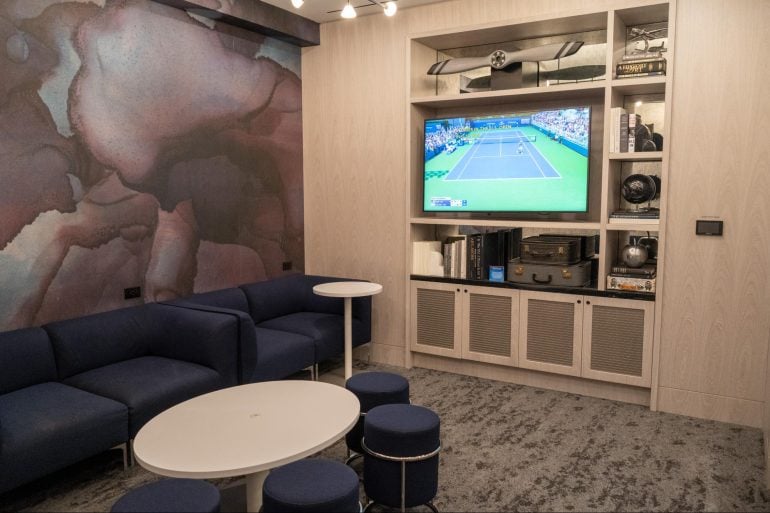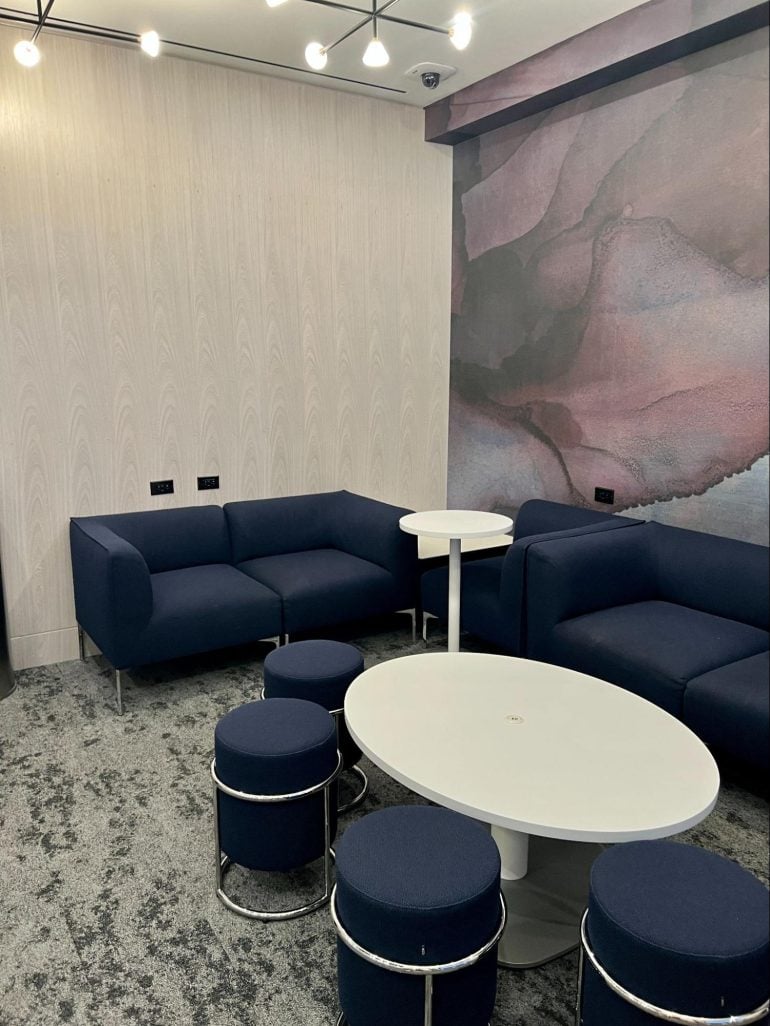 If you're an American Express Centurion Cardholder and want to access the private room, ask one of the employees to let you in. The private room includes several couches, tables, a bar, and a TV. It can be a pleasant personal space to work or relax, especially if you're traveling with a few people.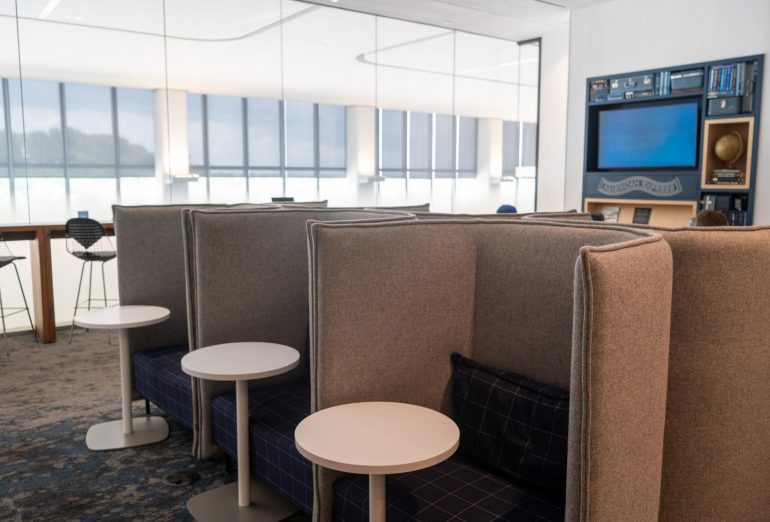 Suppose you don't have the American Express Centurion card and need to get some work done; head to the business center or one of the other seating spaces. The business center offers booths, a long desk and seats along a window if you'd prefer to look at the scenery in the airport terminal. There are also booths facing the entertainment area.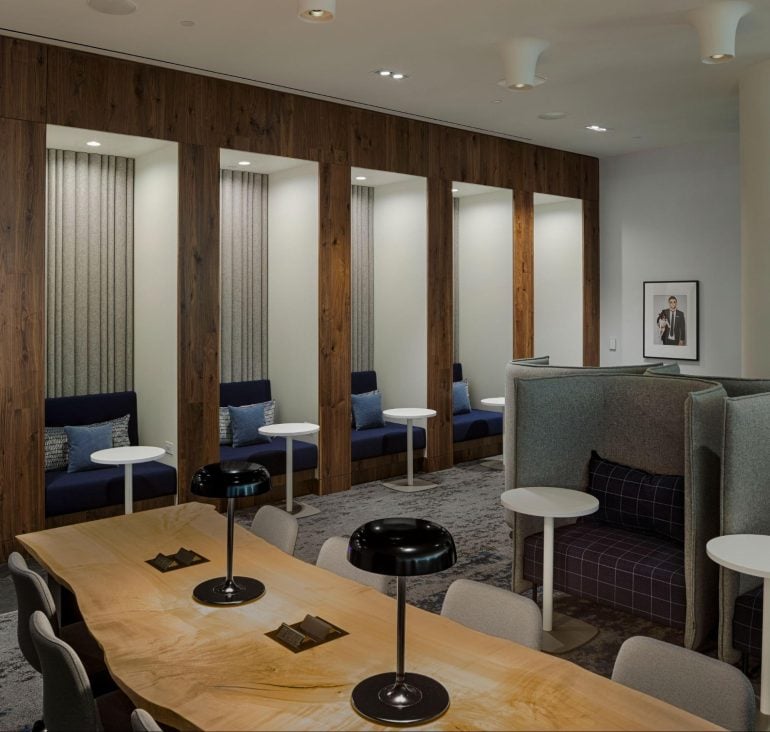 Rather than offering individual desks, the business center has one extended desk area and additional booths. So whether you prefer working at a desk or being tucked away with slightly more privacy, you have options.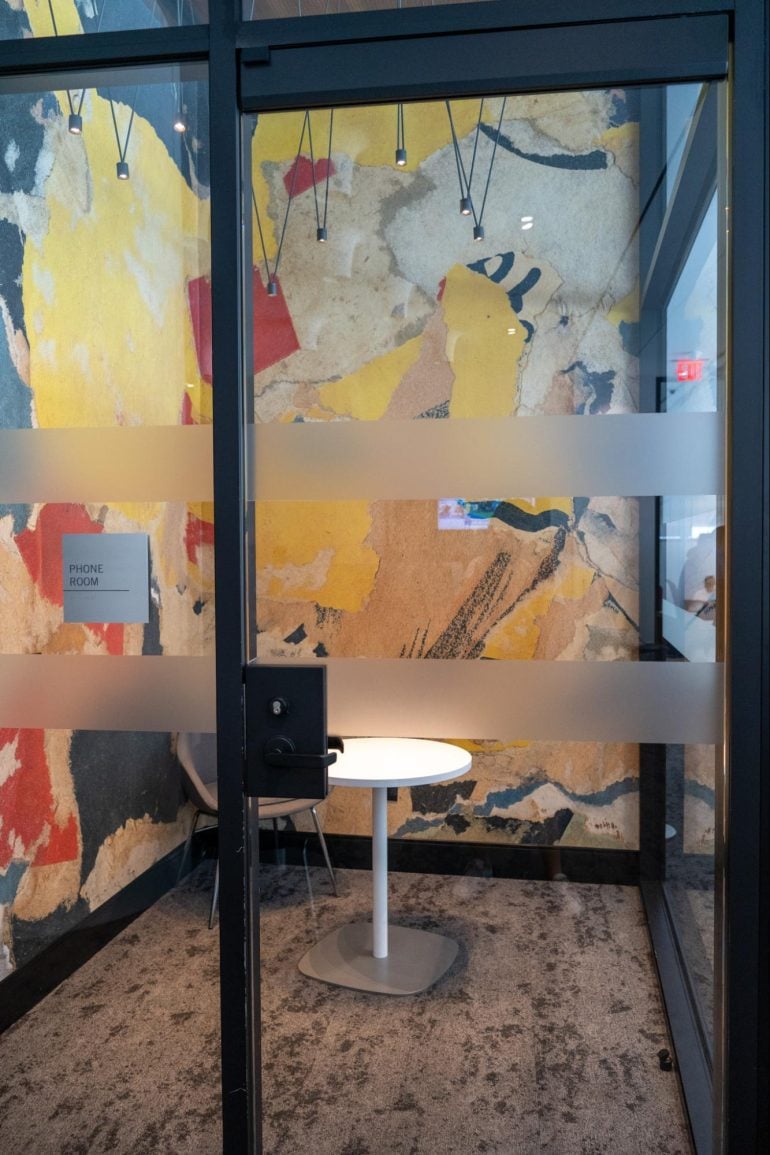 The business center also offers stand-alone private booths — handy if you need to make a phone call or join videoconferencing.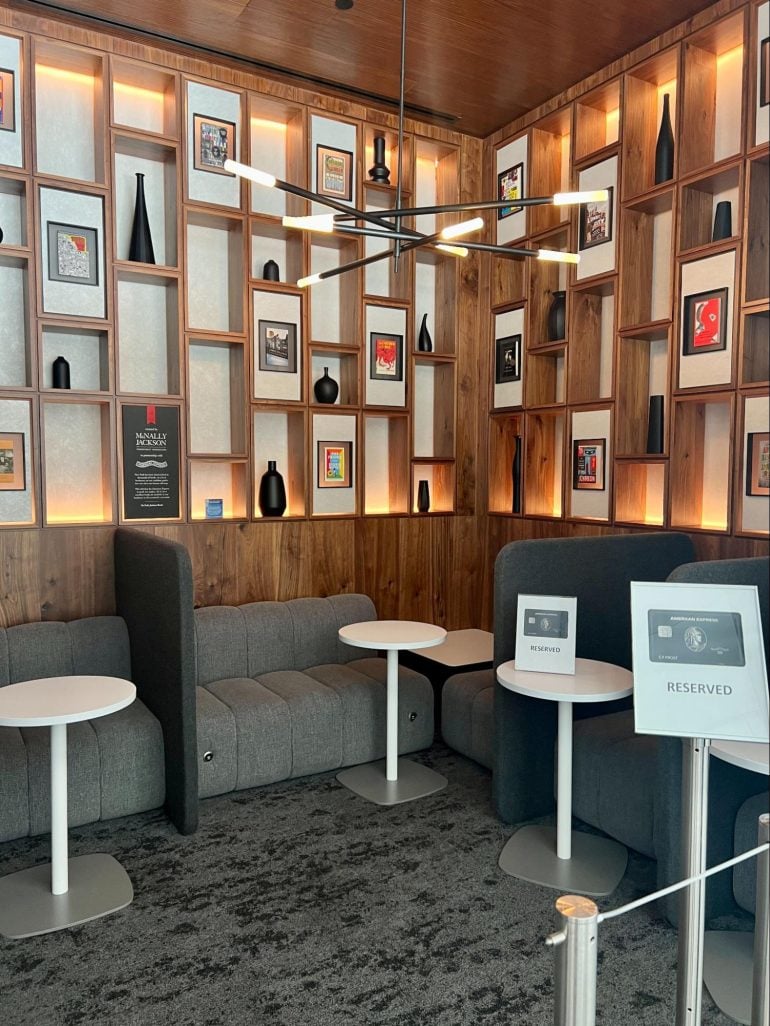 Another semi-private seating area for American Express Centurion Cardholders exists in the business center.
Food and drink
The food and beverage options at the lounge did not disappoint. New York City chef Cédric Vongerichten is the lounge's executive chef. The menu includes signature Centurion Lounge favorites and numerous vegetarian and vegan options.
As typical of Centurion Lounges, you will also find signature cocktails at the bar. Inspired by New York City, mixologist Jim Meehan developed the main bar menu, including alcohol-free mixed drinks and original cocktails like the Lower East Cider and Grand Central Express.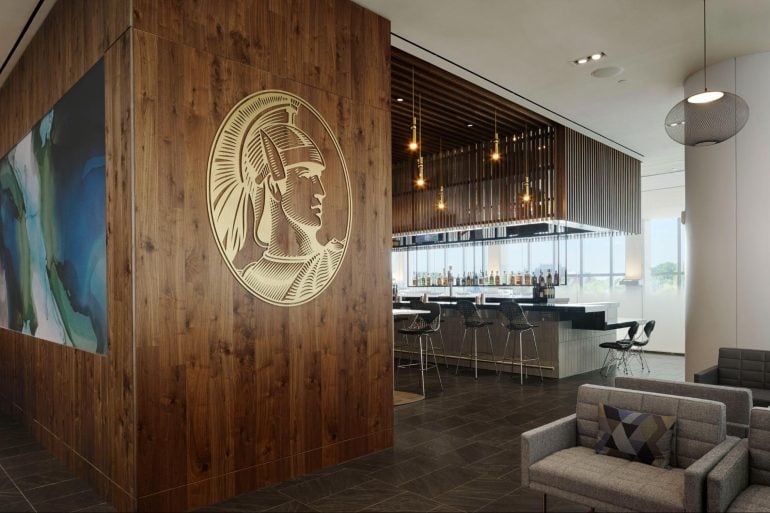 If you'd rather eat and drink, head to the left side of the lounge, where you'll find the bar and other seating areas.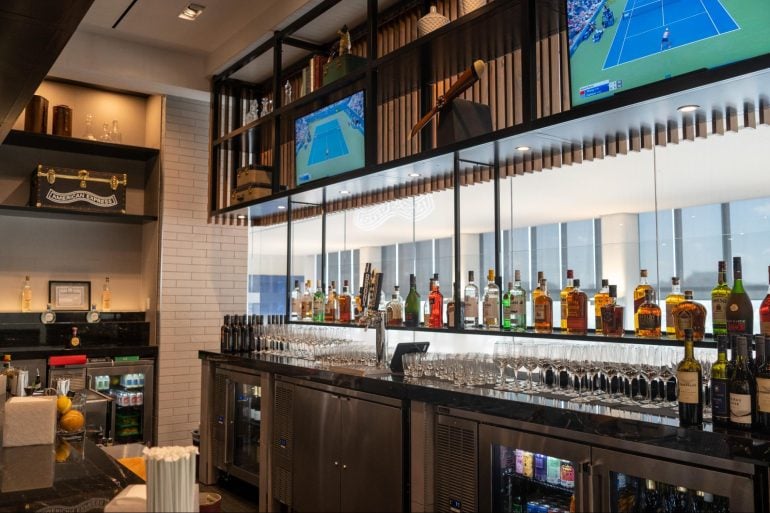 Beyond signature cocktails, the bar is fully stocked with wine, liquor and beer, which is locally sourced from Coney Island Brewery and Captain Lawrence Brewing Co. Wine drinkers may enjoy local options handpicked by Centurion Lounge wine director Anthony Giglio. Those options include Wolffer Estate Cabernet Franc from Long Island and Silver Thread Riesling from the Finger Lakes.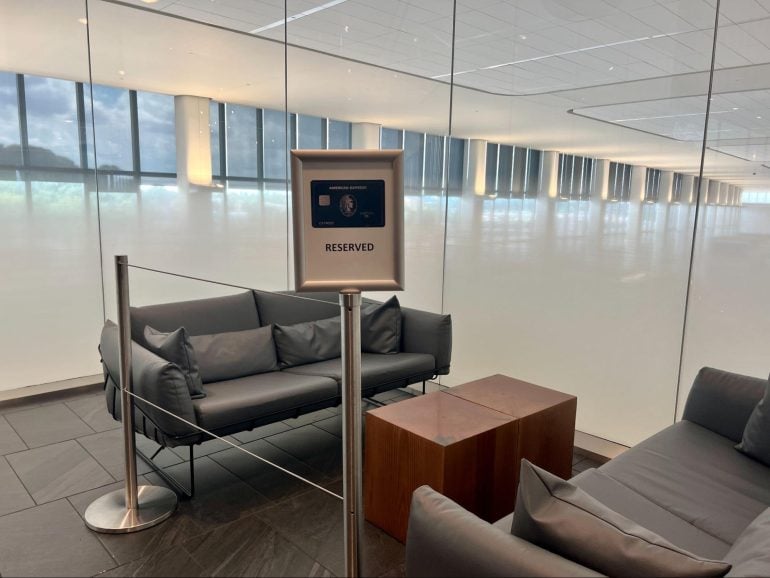 Within the bar area is a section of couches reserved for American Express Centurion Cardholders.
Despite crowd levels, employees keep the buffet fully stocked and refreshed.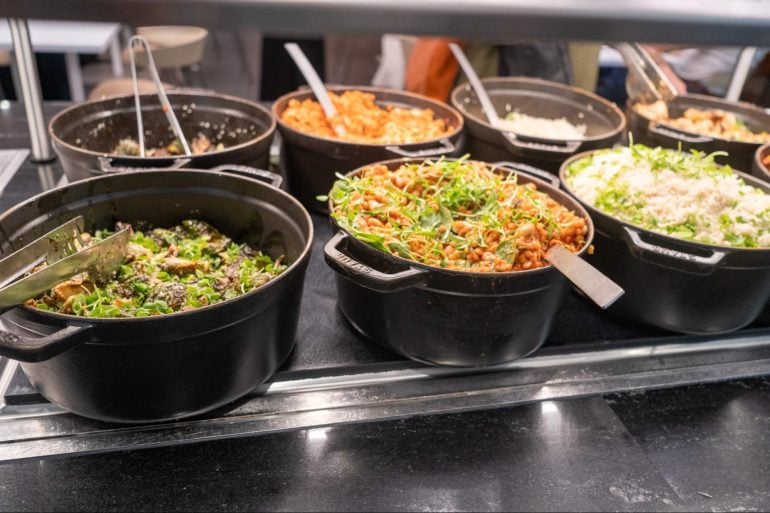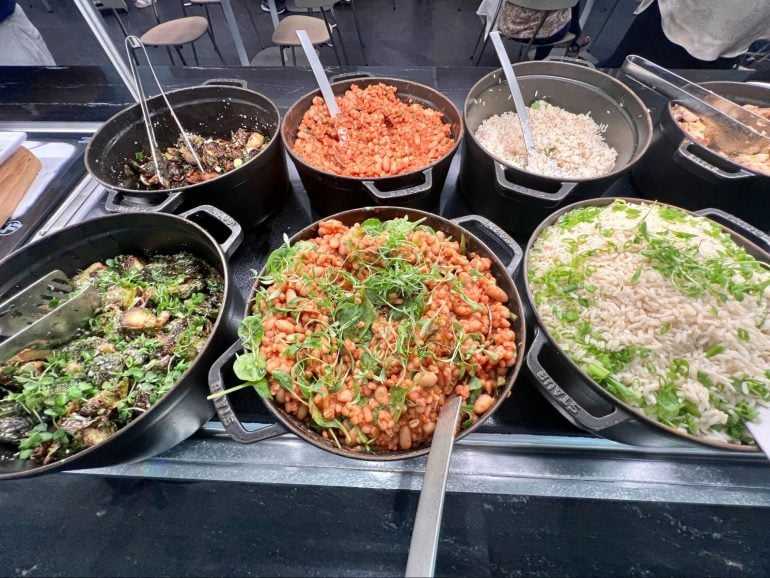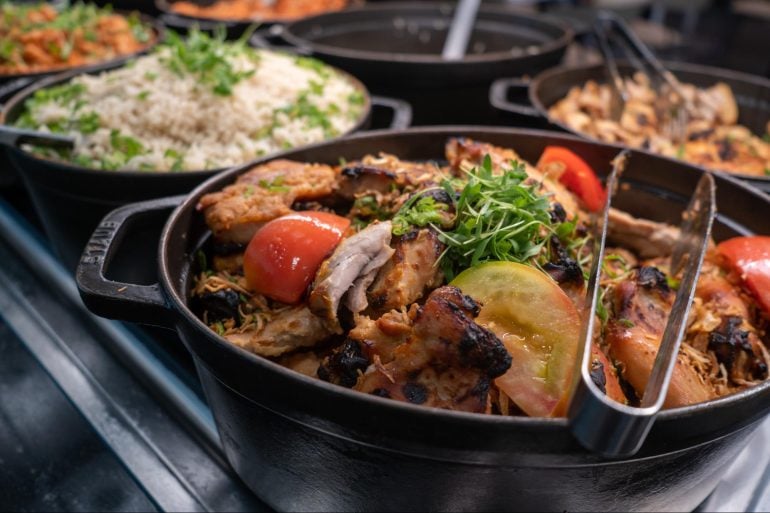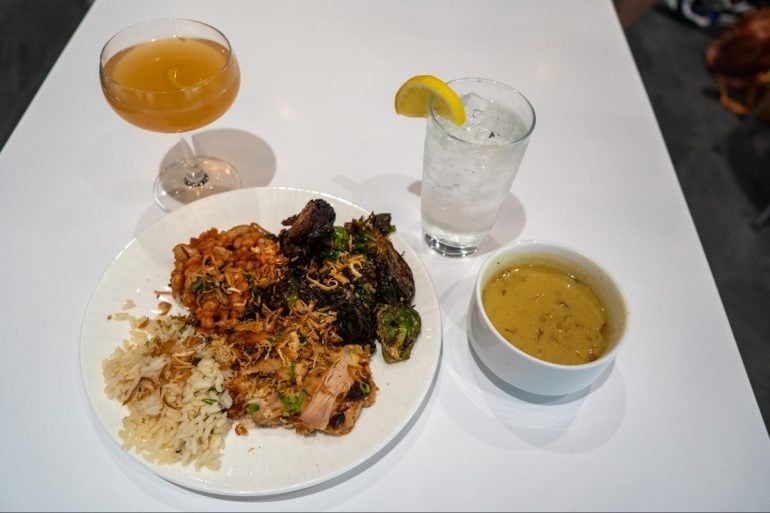 I opted for the roasted chicken with coconut flakes, beans, Brussels sprouts and squash soup. The food was delicious and I topped off my meal with a signature cocktail.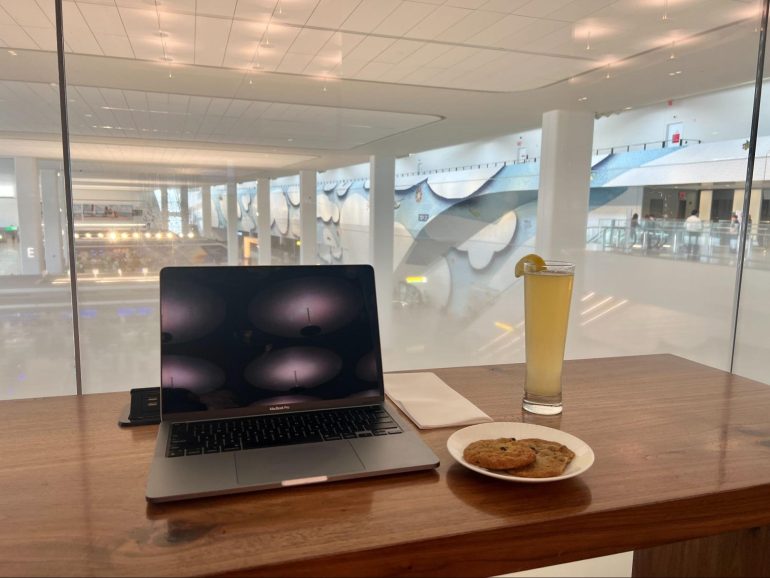 After the meal, I grabbed some chocolate chip cookies and an alcohol-free cocktail and took my laptop to a high-top table overlooking the new terminal.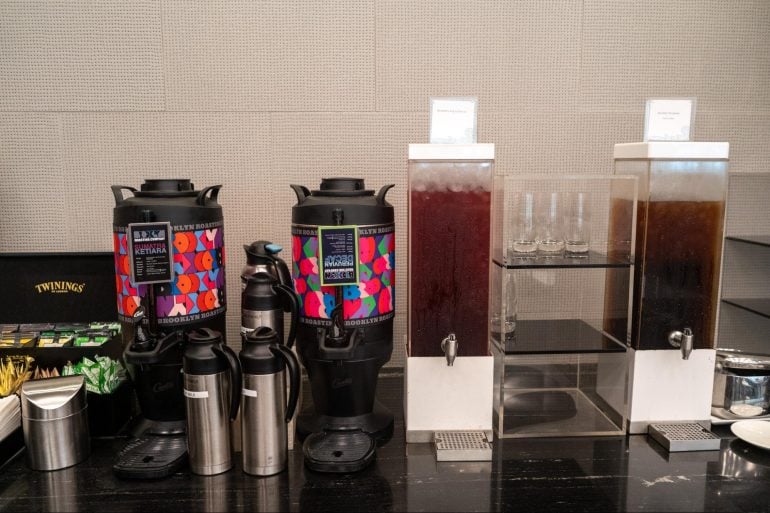 Although I didn't opt for coffee, there was an entire coffee and tea station, with coffee provided by Brooklyn Roasting.
Amenities
At 10,000 square feet, the Centurion Lounge at LGA is decently sized, with plenty of spaces to work or relax. There is high-speed Wi-Fi throughout the lounge, large flat-screen TVs, and newspapers and magazines for entertainment. In addition, you have access to a printer and copy and fax machines. The workspaces in the lounge vary, from a long desk to private booths and rooms.
Service
The service at the lounge was outstanding. The check-in process is efficient — you must present your eligible American Express card, government-issued ID and boarding pass to gain entry. The lounge was pretty busy, but the food was continually replenished and the wait to order drinks wasn't long. However, depending on the crowd level, that may vary.
What is the American Express Centurion Lounge?
Centurion Lounges are part of the Centurion Network, with over 40 locations worldwide. These lounges are also part of American Express's more comprehensive network of lounges called the Global Lounge Collection, which includes more than 1,400 lounges across 140 countries.
These lounges are more exclusive than Priority Pass and tend to be emptier. Centurion Lounges offer premium food from award-winning chefs and top-shelf cocktails created by mixologists. In addition, the lounges provide lots of spaces for relaxation and work.
How to get into the LGA Centurion Lounge
The only way to get into a Centurion Lounge is to have a same-day boarding pass for onward travel and carry one of the following cards:
The lounge is only available to those departing; you cannot enter if you've just landed unless you have a connecting flight. In addition, the Centurion Lounge is located in Terminal B, so if you're not flying from that terminal, you won't be able to access the lounge.
You must show your boarding pass, a physical government-issued ID and your eligible card to be admitted. Holders of the Delta SkyMiles® Reserve American Express Card are only able to access lounges in the United States, Hong Kong and London.
Centurion Lounge guest policy
Currently, holders of The Platinum Card® from American Express, The Business Platinum Card® from American Express and Centurion credit cards can bring two guests at no charge.
Starting Feb. 1, 2023, if you hold The Platinum Card® from American Express or The Business Platinum Card® from American Express, you will have to pay a $50 guest fee ($30 for children aged 2 through 17, with proof) for each guest unless you spent $75,000 on eligible purchases on the card in 2022.
The change in the guest policy is an unwelcome development but likely enacted to reduce the potential for overcrowding. Depending on your travel habits and who you travel with, it might make sense to add your frequent travel companion as an authorized user on The Platinum Card® from American Express or The Business Platinum Card® from American Express (particularly if you cannot meet the spend requirement).
The fee to add an authorized user is $175, so if you expect to visit Centurion Lounges with your travel companion at least four times a year, adding that individual as an authorized user is worth it.
Directions and opening hours at Centurion Lounge LGA
The Centurion Lounge LGA is located in Terminal B, one level above security before the Eastern Concourse pedestrian bridge on the fourth floor.
You will need to go through security to access the lounge. The Centurion Lounge at LGA is open Sunday through Friday from 5 a.m. to 9 p.m. EST and on Saturday from 5 a.m. to 8 p.m EST.
LGA Centurion Lounge recapped
The Centurion Lounge at LaGuardia is a spacious lounge with creatively designed and dedicated spaces to relax, dine and get work done. The lounge offers several different areas, and you can easily move to another location if the one you find yourself in is loud or crowded.
There are also numerous areas reserved for American Express Centurion cardholders. o if you hold one of these exclusive cards, even if the lounge is loud or crowded, you can ask for a private room.
The lounge is relatively large and offers many options for food and drink. If you're flying out of Terminal B, this lounge is worth a stop if you have a credit card that provides access.
How to maximize your rewards
News
You've worked hard your entire career. With your nose to the grindstone, you've let your retirement assets grow on…