64 total views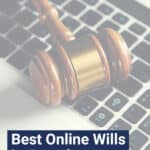 It's easy to see why more Canadians are choosing the convenience and affordability of online will platforms. You save time and money by not going through a lawyer for your will and other estate planning documents – a lot of money.
But what services do online will companies offer, and are some better than others? In this article, I've compiled a list of the best online will platforms in Canada for 2022, and I've even picked a winner.
Best Online Wills Overview
Best Overall: Willful
Epilogue Wills: Best for Couples
LegalWills: Best Value
FormalWill: Best for Pet Owners
CanadaWills: Best Free Online Will
What Is an Online Will?
An online Will is a legal document prepared online that communicates your wishes about your estate after your passing away. It also establishes your estate representative and lists your beneficiaries, serving the same purpose as a will prepared by a lawyer.
Online wills are affordable and convenient, which is why they've become so popular. You can have one prepared in less than 30 minutes and save hundreds of dollars by not dealing with a lawyer.
Online wills have limitations and weren't designed to handle complex estates; in those cases, you need a lawyer to prepare your will. But for most Canadians, an online will is more than sufficient.
Best Overall: Willful
Pricing: $99 – $329
Key Features:
Available in 8 Canadian provinces, including Quebec
Create a legally binding will in 20 minutes, from start to finish
Unlimited, free updates
Simple pricing, with three plans to choose from
Create a Power of Attorney and Living Will
List your assets
Record funeral and burial wishes
Free access to Canada Will Registry ($40 value)
The premium plan is designed for large families
Summary: Founded in 2017, Willful is a fintech company that uses technology to provide simplified end-of-life planning. They are available in eight Canadian provinces, although they have a separate website for Quebec residents.
Willful is our top pick overall for their ease of use and coverage for families. Individuals can get an essential will for $99 or add a Power of Attorney and other features for $189 – not the cheapest option, but a good value, nonetheless.
But Willful's Premium Coverage for Families plan stands out for its value. For $329, couples receive two wills and Powers of Attorney (including Living Wills), the ability to list their physical, financial, and digital assets, and record their funeral and burial wishes. You can also register the location of your will on the Canada Will Registry ($40 value.)
And that's not all. You can add up to 6 household members to your plan at a discounted rate. For more information, read our Willful Review.
Sign Up with Willful Today and Receive a 15% Discount
Epilogue Wills: Best for Couples
Pricing: $139 – $289
Key Features:
Available in every Canadian province except Quebec
Create a legally binding will in 20 minutes
Free will updates
Straightforward pricing with two plans
Create a Power of Attorney and Living Will
Express funeral and burial wishes
Registration with Canada Will Registry ($40 value)
You can create a Social Media Will for free
Offer estate services to professional advisors
Summary: Epilogue Wills is an online platform similar to Willful but with its own unique features. Like Willful, you can create an online will within about 20 minutes. Two estate lawyers created Epilogue, so you know you're getting high-quality legal documents when you complete a Will and Power of Attorney with Epilogue.
Epilogue pricing is very straightforward. There are two plans to choose from. For $139, or $229 for couples, the Will Only plan provides you with a customized will. You also get free updates, the ability to express funeral and burial wishes, and codes that you can use to register your will location with the Canada Will Registry, a value of $40.
The second online will plan is Wills + Incapacity documents. It adds a Power of Attorney for property and healthcare decision-making. Pricing is $179 or $289 for couples. Willful offers lower pricing for a single will ($99 vs. $139), but Epilogue's premium plan offers a better value for couples ($289 vs. $329). You can't add additional household members, but Epilogue's program will be sufficient for most couples.
Epilogue offers additional services as well. You can create a Social Media Will for free, and they cater to professional advisors, such as accountants, investment, and insurance advisors, by offering Will and Power of Attorney services to their clients. Check out our full review of Epilogue Wills review for more information.
Get Started with Epilogue Wills Today
LegalWills.ca: Best Value
Pricing: $31.96 – $159.96
Key Features:
Providing online legal wills to Canadians since 2000
Value pricing – Premium Estate Plan is only $159.96 for couples
Products available a la carte
Document your funeral wishes
Write final wishes to be delivered after you pass away
Create a Power of Attorney (Living Will)
Store your documents online in their secure vault
Summary: LegalWills.ca has been around much longer than other platforms on our list. They've been providing online wills to Canadians since 2000, so they know a thing or two about the estate planning needs of Canadian families. Compared to the Willful or Epilogue Wills platforms, the Canadian Legal Wills platform feels dated, and their pricing is complicated.
There are four Estate packages to choose from, but they also offer products a la carte. While picking and choosing what you want is nice, it can be confusing.
But what LegalWills.ca lacks in functionality, they make up for in value. They are more affordable across the board than Willful and Epilogue Wills. For example, an individual can get a basic Will for $31.96 ($47.96 for couples.) And their Premium Estate Plan for couples is only $159.96. It includes a Last Will, Power of Attorney for Finances, Living Will (Power of Attorney for Healthcare), Canada Will Registry Codes (up to $80 value), and more.
If ease of use is not a concern, and you just want the best bang for your buck, LegalWills.ca is worth considering.
FormalWill: Best for Pet Owners
Pricing: Will $59 / Power of Attorney $39 / Living Will $39 / Pet Will $59
Key Features:
Affordable Last Will and Testament
A la carte pricing
Purchase a Will, Power of Attorney, and Living Will
Purchase a Pet Will for $59
Option to have your will reviewed by a lawyer in your province
Once you've completed your will, FormalWill emails your documents to you
Summary: FormalWill provides online wills for Canadians and is operated by FormalWill Inc., a federally incorporated Canadian corporation. Unlike other online will providers, they don't have will packages; the pricing is a la carte. That said, the products are straightforward and the pricing is easy to understand. Unfortunately, the FormalWills website appears dates and is challenging to navigate, much like LegalWills.ca. They've been around for a while, which is perhaps why their platform lacks the intuitive design of Willful or Epilogue Wills.
Another drawback to FormalWill is that they don't offer free updates; you have to pay an extra fee. You can, however, have your Estate documents reviewed by a lawyer licensed in your province of residence. Your costs will increase – pricing ranges between $149 and $249 per document, but it's still more affordable than hiring a lawyer to prepare your will from scratch.
Despite the drawbacks, there is one reason you should consider FormalWill.ca – they offer Pet Wills. That's right, for $59, you can have a legal Will prepared for your pet. If that sounds odd, consider the challenge of deciding what happens to family pets after you pass away. And there are millions of pet owners in Canada.
According to FormalWill.ca, a pet Will allows you to appoint a pet guardian to care for your pet(s) if you die or are incapacitated. You can name alternate guardians, animal care organizations, set aside funds for your pet's care, list preferred veterinarians and caregivers, and more. It's a unique product that won't be for everyone but can undoubtedly give pet owners peace of mind.
CanadaWills: Best Free Online Will
Pricing: Free (donations accepted)
Key Features:
Free online wills (option to donate)
Living Will is available
Free end-of-life planning kit
Includes digital assets, pet trusts, and guardianships
May not meet the laws and requirements of your jurisdiction
Summary: CanadaWills.ca operates on a different business model than the other online will companies on our list. Their wills are 100% free. They accept donations, allowing them to continue providing their free service to Canadians.
If you're wondering whether there's a catch, well, in my opinion, there is. Based on the information I could find, CanadaWills doesn't seem to tailor their legal documents to your specific provincial jurisdiction. For example, they state the following Legal Considerations regarding Living Wills, Medical Powers of Attorney, and Advance Directives:
"Every jurisdiction has different laws and requirements. The Living Will, Medical Power of Attorney, and Advance Directive available on this website was designed to meet the requirements of most jurisdictions. We cannot assure you that the Living Will, Medical Power of Attorney, and Advance Directive on this website meet the laws and requirements in your jurisdiction. To ensure compliance with the laws in your jurisdiction, you must consult a legal advisor."
Remember that a Will is a legal document that someone could potentially challenge in court after you pass away. Do you want to risk a potential dispute that could compromise your wishes and make life difficult for your estate representative(s)?
Here's my take: if you don't have the resources to spend money on a will, a free will from CanadaWills is better than having no will. But as they say, you get what you pay for, and there are some definite gaps in the CanadaWills product.
Are Online Wills Legal?
Online wills are legal documents developed by estate lawyers and licensed legal professionals. To be valid, you must print your will and sign it correctly. If you're setting up an online will, follow the instructions carefully to make sure your will is legal.
Online Wills vs. Legal Will Kits: Is There a Difference?
Many people need clarification on the term, legal will kit. Online wills, like the ones offered by the platforms covered in this article, are not the same as legal will kits. A will kit is a fill-in-the-blank document that can be purchased from a retail store or downloaded from the internet.
Legal will kits are generic forms, cannot be easily updated, and cannot be easily updated. There is little to no personal support available with legal will kits. If you make an error, your will could be challenged in court.
Given how affordable online wills have become and the customization they offer, I don't recommend legal will kits to anyone.
Online Wills vs. Lawyer Wills
Should you buy an online will or hire a lawyer to do your estate planning? In short, online wills are sufficient to handle most Canadians' estates. That said, there is no substitute for the legal expertise that a lawyer provides.
Suppose you have a complex estate or family situation, i.e., you own foreign property, run a business, have a child with special needs, or have estranged family members. In that case, you should have your will prepared by a lawyer. They will make sure there are no errors or oversights and that you clearly state your intentions in your will.
The Best Online Wills: Final Thoughts
There you have it, our list of the best online will companies in Canada. Willful and Epilogue stand out as the top two options, with Willful getting our nod for Best Overall. Both platforms are intuitive and easy to use and will save you hundreds of dollars over a lawyer-prepared will.
The other platforms on our list are flawed but are worth considering if price is your only priority or if you are looking for a specific feature, such as the Pet Will offered by FormalWill. Remember, regardless of who you choose, the most important thing is having a legal will.
News
You've worked hard your entire career. With your nose to the grindstone, you've let your retirement assets grow on…