94 total views
Online payment service PayPal allows you to transfer cryptocurrencies in and out of the platform. This feature launched in August 2022; before then, users could buy, sell and hold crypto with PayPal but not send coins to other users or crypto wallets.
The platform's crypto functionality is more advanced than that of its subsidiary Venmo, though it lacks the features and protections of popular crypto exchanges. It's still a convenient way to buy and sell crypto if you have a PayPal account, and you can use your coins to make purchases through the platform with participating businesses.
PayPal allows purchases, storage and transfers for four currencies: Bitcoin, Ethereum, Litecoin and Bitcoin Cash. Its pricing structure is similar to Venmo's: Fees amount to $2.49 on a $200 purchase, plus an estimated 0.5% trading cost based on the coin's exchange rate, a moderately high charge when compared with that of other platforms.
Here's what to know about buying, selling and transferring cryptocurrency with PayPal.
Buying crypto with PayPal
You'll need to use a verified PayPal account to interact with crypto on the platform. There are two major exceptions: PayPal doesn't support crypto transactions in Hawaii, and business accounts can't participate.
Here are the steps for purchasing:
1. Go to the "Finances" tab, which can be found at the top of your screen on desktop and at the bottom of the home screen on the mobile app with this icon:

From there, you can select the "Crypto" tab.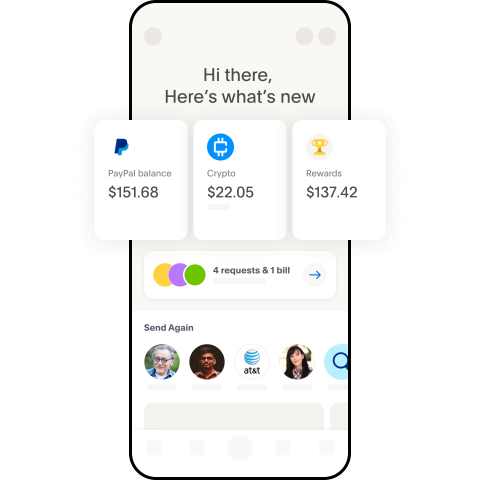 3. Make sure your identity is verified. If you need help, this support page outlines the steps. You may need to accept PayPal's cryptocurrency terms and conditions before you continue, and you'll likely have to submit a few identification documents to confirm your home address, name and date of birth as well as a photo of your face.
4. Enter your desired dollar amount and select "Next." You'll get the chance to double-check how much crypto you're purchasing, plus any fees that will be added.
The maximum limit for crypto purchases is $100,000 per week. You can buy as little as 0.01 BCH, ETH and LTC and as little as 0.001 of BTC.
5. Choose your payment method. You can use a debit card, linked bank account or any funds in your PayPal balance.
6. Select "Buy" to confirm. PayPal updates the market value of all four currencies every few seconds, so the value you see right when you choose "Buy" is the amount you'll receive.
PayPal cryptocurrency purchases include a "spread," meaning you'll pay slightly more than the market price when buying and get slightly less than the market price when selling. This margin is around 0.5% and depends on market conditions.
On top of the spread, PayPal charges the following transaction fees based on the purchase amount:
There are no fees for holding crypto on PayPal. You can view the amount of crypto you hold, and its market value, in the same tab you used to purchase.
If you're looking to hold a significant amount of crypto, a wallet is a more secure option.
Once you have crypto assets in your PayPal account, you'll be able to view the current price and sell through the same tab. The fees for selling are the same as the fees for purchases: a per-transaction fee, plus the 0.5% market spread.
Proceeds from the sale will go to your PayPal account, where you can use the funds to make purchases or transfer them to your bank account.
Transferring crypto into PayPal from another wallet
Select your chosen coin in the Crypto tab and use the transfers button to move coins into PayPal from an outside source. The platform doesn't charge fees for transferring, but your wallet or exchange may charge a sender fee. The transfers button looks like this:

You may need to confirm your tax information, including your Social Security number, before continuing. Once verified, you can select "Receive."

PayPal will generate a unique address for your transfer, which you can copy and paste manually or share with a QR code. As with any crypto transfer, make sure you input this address correctly. Coins sent to the wrong address can't be recovered.
The address generated will work for only this specific transfer; this is not a private key.
Transferring crypto out of PayPal
Select your chosen coin in the Crypto tab and use the transfers button to send your crypto out of PayPal into an external wallet. Again, PayPal doesn't charge a specific fee for transfers, but you'll likely be charged a blockchain network fee, which applies to most crypto transactions between platforms.

If your identity is verified, you can select "Send" and enter the wallet address where you want to send your crypto. Similar to the receiving feature, you can copy and paste the address or scan a QR code to ensure you enter it correctly.
Sending crypto to another PayPal user
Sending crypto to another PayPal user is easier than transferring it in or out of the platform, and there are no fees, including the blockchain network fee.
Choose the coin in your Crypto tab and use the transfers button to send coins to another user.

Select "Send" and choose the user you're sending to in your PayPal contacts. You'll be able to double-check the amount and the destination before you confirm.
The PayPal app can send push notifications that alert users to crypto price changes. You can customize these alerts with a specific currency and the desired percentage price increase or drop: 5%, 8% or 10%. Crypto alerts can be found in the app's settings under the bell icon.
Does PayPal offer tax forms?
Yes, PayPal will provide users with any necessary 1099 forms and report the same information to the IRS. All crypto sales on PayPal are taxable.
What protections does PayPal offer?
Like with other exchanges, your crypto funds on PayPal aren't eligible for Federal Deposit Insurance Corp. coverage, which would normally protect up to the first $250,000 in deposits.
PayPal Buyer Protection also doesn't apply to cryptocurrency purchases, though PayPal says crypto purchases will be protected from unauthorized activity. In the event of an unauthorized transfer, you may be eligible for reimbursement up to the equivalent of $50,000.
Neither the author nor editor held positions in the aforementioned investments at the time of publication.
News
A Miller trust, also called a Qualified Income Trust (QIT), can help you qualify for Medicaid nursing home benefits…