44 total views
In April, Southwest announced that it was cutting nearly 20,000 flights from its summer 2022 schedule due to delays in aircraft orders and labor shortages, leading to a number of cancellations. Since then, the airline has continued to deal with staffing issues and severe weather, meaning there's a chance your upcoming flight might be delayed or canceled.
Here's a look at why Southwest is still canceling flights, how to check your flight status and what to do when there are flight cancellations so you can save your trip.
Why is Southwest canceling flights?
Flights can get canceled for a variety of reasons, from mechanical problems to severe weather systems. While some are the fault of the airline, others are beyond their control. Like other airlines, Southwest may have to cancel flights when these unanticipated events occur.
These are some of the most common reasons for Southwest flight cancellations:
Mechanical issues. Safety is important when flying more than 500 mph at 30,000 feet. If there's a mechanical issue, an airline will delay or cancel the flight until the problem has been fixed.

Severe weather. Weather issues can wreak havoc on an airline's flight schedule. In some cases, the weather problems aren't in your departure or arrival city, but are in the region where your plane is coming from.

Staffing issues. Airplanes must have a minimum number of crew members on the flight; otherwise, they legally cannot fly. There must be a pilot and co-pilot, plus several flight attendants to handle passenger needs. Crew members may not make your flight for a variety of reasons, including being stuck at another airport, reaching their maximum hours worked or calling in sick.

Schedule changes. Airlines adjust their schedules based on seasonality, customer demand, weather forecasts and other issues. Typically, these schedule changes are announced in advance so that you can make other arrangements to complete your travel. If Southwest changes your flight schedule, you can reschedule your flight date and time by up to 14 days from the original travel date at no additional cost.
How to find Southwest flight status and on-time history
If you want to know the status of your flight, go to Southwest's flight status page and enter your departure and arrival airports and travel date. You'll be able to see any updates to your flight instantly.
You'll also have a better chance of avoiding delays and cancellations by choosing flights with better on-time performance and low cancellation rates. You can find this information for Southwest's flights before buying your ticket.
While booking your flights, click on the flight number in the search results to see the historical performance of a flight. The pop-up window shows how often the flight arrives on time, is more than 30 minutes late or is canceled. It also provides the average delay time for the flight.
In addition, Southwest provides a digital history of the airports that have experienced travel impacts in the recent past.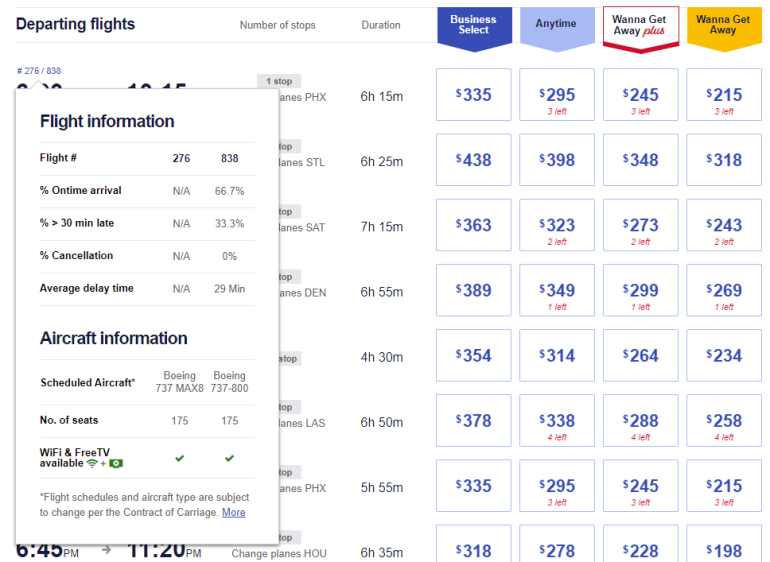 What to do if your Southwest flight gets canceled
When your Southwest flight is canceled, it's important to take action quickly to minimize the impact of your travel plans. Follow these steps to salvage your trip:
Know your rights
Although airlines don't guarantee their schedules, the U.S. Department of Transportation does have a so-called "bill of rights" that airlines must follow. If your flight is canceled, most airlines will rebook you on the next available flight. However, that next flight might be several days later. In that case, ask the airline if they'll rebook you on another airline.
Try to book another flight immediately
If you're in the middle of a trip and your flight is canceled, one option is to book another flight right away. Airlines give travelers 24 hours to cancel tickets without penalty, so you can book another flight as a backup plan. If Southwest is able to accommodate you on another flight, you can cancel this reservation.
Having airline miles with multiple programs or flexible points (like Chase Ultimate Rewards®) comes in handy in situations like this. If Southwest is having issues, other airlines might not have any problems. You can use your airline miles or flexible points to book with another airline to get to your destination.
If you book a new flight, be sure to request a refund from Southwest. According to the U.S. Department of Transportation, you are entitled to a refund of the unused portion of your trip, even for nonrefundable tickets.
Speak with a gate agent or customer service
When your Southwest flight is canceled, the sooner you talk with a gate agent or customer service, the better your chances are of being rebooked on another flight. If you're in line to speak with an agent, consider calling customer service while you wait. You never know which one you'll be able to connect with first.
Update your other travel plans
Flights are only part of your trip. There are hotels, rental cars, excursions, restaurant reservations and other plans that could be affected by your canceled flight.
If there's a possibility that you can make another flight, hold off on making changes to your other reservations. But if you know that you won't arrive on your originally scheduled date, contact customer service for each reservation to make the necessary changes. Some travelers may hold off until they've confirmed another flight to know if they need to cancel reservations or simply make changes to them.
Make alternative sleeping arrangements
When your flight is canceled, you may be stuck in the departure city longer than expected. Airlines aren't required to provide passengers with a hotel room, food vouchers or other reimbursements for non-airline expenses. Each airline has different policies for what it will do for passengers whose flights have been canceled.
For issues under their control, some airlines do provide vouchers for meals and a hotel overnight. However, when flights are canceled due to weather, you're usually on your own. Since last-minute hotel reservations can be expensive, booking a room with your hotel points or a free night certificate can be a valuable redemption.
How to rebook a canceled flight
If your flight has been canceled by Southwest, how you rebook will depend on what stage of your trip you're in:
Flight canceled before the trip. In most cases, Southwest alerts passengers of a change in the flight schedule and assigns them to an alternative flight. If those flight plans don't work for you, you can change the flight date and time by up to 14 days without being charged anything extra.

Flight canceled during the trip. If Southwest cancels your flight in the middle of your trip, the best option is to work with the gate agent or customer service to be rebooked for free on the next available flight.
If you decide not to travel due to the cancellation, Southwest must refund the unused portion of your ticket. You are also entitled to a refund of any other fees that you paid for that flight, including checked bag and Early Bird check-in fees.
Southwest may offer a voucher for future travel instead of a cash refund. Before you accept this offer, make sure that you understand the limits and expiration date of the voucher.
How to get a refund from Southwest
But when Southwest cancels your flight, the U.S. Department of Transportation says that the unused portion of your ticket is refundable, even if you originally purchased a nonrefundable ticket.
To request a cash refund, contact Southwest customer service at 800-435-9792. They will return the money to your original form of payment.
For travelers who prefer a voucher, enter the confirmation number from the canceled flight to use the credit toward a future flight. The Southwest travel funds page provides details on the balance, expiration date and status of your unused flight credits.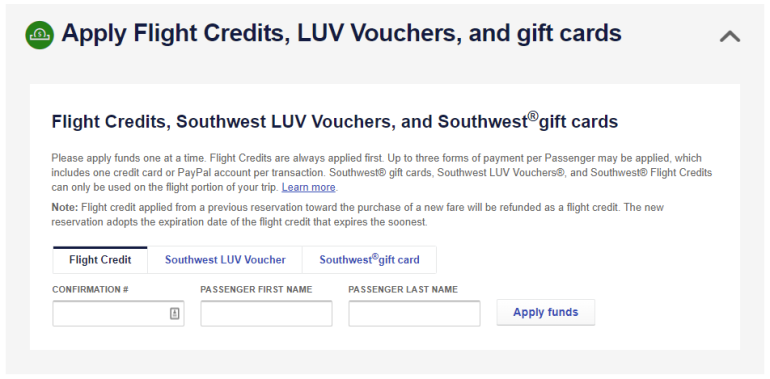 Other ways to get money back on a canceled flight
Credit card benefits
Many travel credit cards include trip cancellation protections when you buy your ticket using the card. These benefits provide reimbursement when there are Southwest flight cancellations or if your trip is affected by weather, sickness or other covered situations. You're protected against losing money on prepaid and nonrefundable travel expenses, including tours, hotels and passenger fares.
Trip delay reimbursement covers you when your trip is delayed more than a specific number of hours or requires an overnight stay. This coverage is ideal when your flight is canceled, but the airline can put you on a later flight. It covers expenses such as meals and lodging that you incur as a result of this delay.
For example, the Chase Sapphire Preferred® Card offers trip cancellation coverage up to $10,000 per person ($20,000 total per trip). It also includes trip delay reimbursement of up to $500 per ticket when your flight is delayed more than 12 hours or requires an overnight stay.
Travel insurance benefits
While some credit cards include travel protections, they typically aren't as comprehensive as purchasing a travel insurance policy. These policies can cover a single trip or protect all trips within a period of time. Most travel insurance companies offer a variety of policies and coverage levels to meet each traveler's budget.
In addition to trip cancellation and delay protections, many travel insurance policies also cover emergency medical treatment and transportation, baggage loss or damage and epidemic diseases.
If your Southwest flight has been canceled
When there are Southwest flight cancellations, it's important to know your rights and take action. There are many reasons why your flight might be canceled, but when you act quickly, you can update your flight plans and reduce the impact on the rest of your trip.
Many travel credit cards and travel insurance policies offer valuable protections that cover unexpected expenses and nonrefundable reservations caused by a cancellation. By taking advantage of these protections, you can minimize frustration and eliminate out-of-pocket expenses resulting from a canceled flight.
How to maximize your rewards
News
What is the highest workers comp settlement in the US? | Insurance Business America Guides What is the highest…