87 total views
For any traveler, there is always one part of the trip that can bring anxiety — security checks. Regrettably, security checks can be a nuisance, whether getting by the Transportation Security Administration to catch your departing flight or arriving home from an international trip and dealing with customs.
But there are ways to ease the aggravation. Programs like Clear and Global Entry can alleviate worry and help expedite the process. They offer different routes to faster checkpoints at airports, but in different ways.
Are you trying to decide between Clear and Global Entry? Here's a guide to help you choose which program is right for you.
What's the difference between Clear and Global Entry?
Clear and Global Entry differ in a few critical ways:
Clear allows you to hurry through security lines faster at 40-plus airports around the United States. It lets you quickly access identification documents and verify your identity by scanning your fingerprints or eyes. This process allows you to skip the TSA ID check and go directly to security. Membership starts at $189 for a standard annual membership.

Global Entry offers an expedited U.S. Border Control and Customs process when arriving in the U.S. after international travel via a trusted traveler number. An in-person interview is required before approval, but membership allows expedited clearance via kiosks at some airports. Membership is $100 for five years.
Here's Clear versus Global Entry at a glance:
| | | |
| --- | --- | --- |
| | Expedited document checks at security. | Expedited customs screening when arriving in the U.S., plus TSA PreCheck benefits. |
| | | |
| | Enroll online or in-person at any Clear airport location, scan eyes and fingerprints in person. | Apply online and interview in-person at one of many enrollment centers. |
| Application fees covered by certain credit cards? | | |
Once enrolled in Clear, you'll have access to dedicated Clear security lanes staffed by Clear Ambassadors at participating airports. They'll likely be near the TSA PreCheck lines. Here, you'll scan your boarding pass, plus your face or fingerprints, at a Clear kiosk and get whisked directly to the physical security checkpoint by a Clear employee; no photo ID is required.
This lets you skip one of the airport's most lengthy and time-consuming lines — ID verification — to get to your gate faster. You will still have to go through the physical screening line, including metal detectors and bag scanning. However, if you also have TSA PreCheck, you can head to that screening line instead.
Once approved, members who arrive in participating airports in the U.S. need to:
Go to Global Entry kiosks before proceeding through customs and border security.

Scan their passport or approved ID.

Verify their identity via fingerprint.

Complete a quick digital customs declaration form.
Travelers do all this without having to stand in long lines at customs.
You'll receive a printed transaction receipt right away and then you can head straight for baggage claim or the exit. It means less time standing in customs lines in the airport once you arrive in the U.S. Plus, Global Entry includes TSA PreCheck.
Clear vs. Global Entry cost
Clear: $189
Clear is more expensive than Global Entry at $189 per year. However, you can cancel your Clear membership at any time and be refunded a prorated amount based on how much time remains on your membership.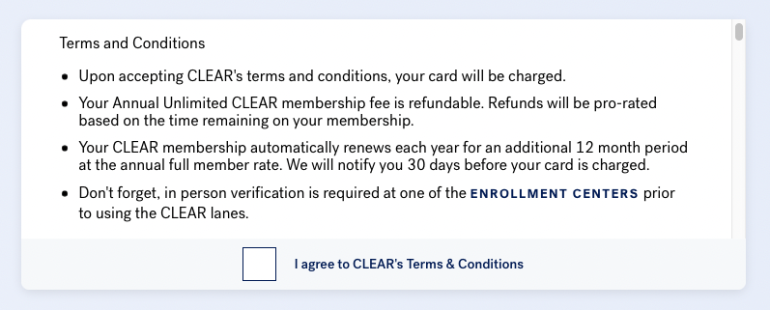 For $60, you can also add up to three friends or family members to your Clear account. That way, whether they're flying with you or not, they'll have access to Clear benefits.
Global Entry: $100
Global Entry costs $100 every five years, so where cost is concerned, Global Entry is a clear frontrunner. Plus, it includes TSA PreCheck, which costs $85. So you're getting a whole lot more for a whole lot less than with Clear.
Pros and cons of Clear, Global Entry
Clear only provides access to quicker identification confirmation lines at a selection of domestic airports, not physical screening lines.
You'd have to combine Clear and TSA PreCheck for faster screening across the board. But that's not only more expensive, but it's also only helpful if the TSA PreCheck line at your regular airport is consistently long or non-existent.
Global Entry, on the other hand, includes TSA PreCheck, which offers more streamlined physical screening lines at more than 200 airports. So if you apply and are approved, you automatically get expedited screening and a shorter route through customs when returning to the U.S. after traveling internationally. Plus, you don't have to take off your shoes or remove liquids from your bags.
That said, additional family members or friends traveling with you will have to apply for their own Global Entry memberships (children under 12 can accompany guardians through TSA PreCheck lines). In contrast, you can easily add people to your Clear account (even if it's for a fee).
The time required to enroll varies between programs, too. For example, while Clear membership is easily applied for online and only requires a few minutes at the airport to scan your biometrics, a Global Entry membership requires much more. It necessitates an online application, a rigorous background check, an in-person interview that may have to be scheduled weeks in advance, and a waiting period of up to 60 days.
Important considerations for both programs
Nonrefundable fees
Clear members who want to cancel their membership can, and if there are at least 30 days left, a prorated refund for the remaining time will be refunded. However, the Global Entry application fee is nonrefundable, even if your application is denied.
Traveling with others
Children under 12 can accompany their guardians through TSA PreCheck lines if the guardians have Global Entry, but anyone without a membership has to wait in the regular lines.
With Clear, it's easy to add others to your Clear account to reap the benefits together. Plus, any family under 18 can join you in the Clear Lane; no fee is required.
Background checks
The Global Entry application involves sharing extensive personal information and completing a full background check with the government, which may make some travelers uncomfortable and disqualify those with criminal histories.
Clear requires less concerning applicants' info but keeps your fingerprints and eye scan on file.
Apply to Clear
As long as you are at least 18 and have one of these forms of photo ID, you can enroll in Clear.
U.S.-issued permanent resident card.

U.S. passport or passport card.
You can enroll online or in-person at any Clear airport location, but you'll have to complete the process in person at an airport and a Clear pod by scanning your eyes or fingerprints to be saved to your profile. That's how security will verify it's you.
Apply to Global Entry
The program is intended for low-risk travelers who are U.S. citizens, permanent residents or select foreign nationals.
To apply, submit an application online. Then, if you are conditionally approved, you can schedule an interview at an enrollment center at a participating airport, a list of which can be found online.
You'll need to bring a valid passport and one other form of photo identification, like a driver's license, with you to the interview.
Once approved, you'll likely receive your Trusted Traveler number in three to five days, though it could take up to 60. That said, don't wait to schedule your interview if you have travel planned; depending on the airport, you could wait weeks or months for an available appointment.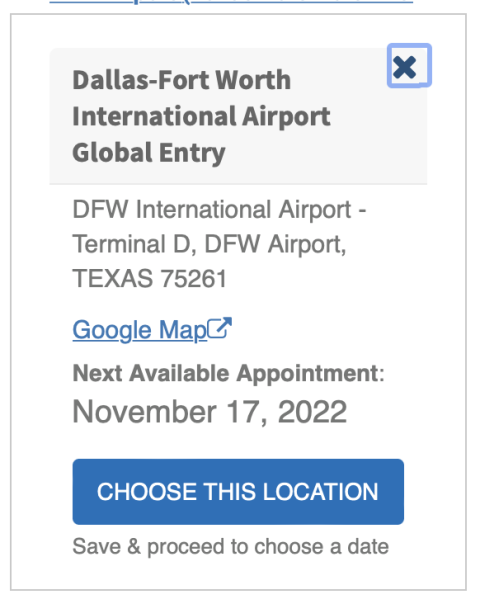 Credit cards that reimburse application fees
Clear vs. TSA PreCheck vs. Global Entry
Many travelers learning the differences between Global Entry and Clear often have questions about another popular Trusted Traveler program, TSA PreCheck. Here is how TSA PreCheck, Global Entry and Clear compare.
| | | | |
| --- | --- | --- | --- |
| | | | |
| | | | |
| | | $100, then $100 to renew. | |
| | Faster security lanes. Screening conveniences, such as no need to take off shoes, electronics and liquids can be left in bags. | Expedited immigration. Preclearance available at some international locations. Includes TSA PreCheck. | No wait ahead of security at multiple venues, ranging from airports to arenas. Hertz Fast Lane access. |
| Flaws, but not dealbreakers | Sometimes TSA PreCheck lines can be longer. | Requires fingerprinting and background check. | High cost. Doesn't include the screening conveniences of TSA PreCheck. |
The information related to Citi Prestige® Card has been collected by NerdWallet and has not been reviewed or provided by the issuer or provider of this product or service.
How to maximize your rewards
News
For new college graduates, receiving that first post-degree paycheck can be almost as exciting as getting the diploma itself.…