237 total views
For years, Upserve has served the restaurant community with its management platform and mission to empower businesses with the tools they need to succeed. To expand the Upserve merchant services offerings, Upserve acquired Breadcrumb POS in 2016 and has since merged the Breadcrumb POS system under its name, becoming Upserve POS.
Upserve POS is one of the most popular restaurant point-of-sale systems, serving small businesses all over the country. There's no doubt that if you need a POS system with a full range of features that will allow you to run your restaurant — everything from processing payments to taking and managing orders to gaining business insights — that Upserve POS can fulfill that need. However, if you're concerned about the monthly cost you'll pay for your point-of-sale, you might want to consider some of the alternatives to Upserve POS. Although Upserve has excellent capabilities, 24/7 customer support and positive user reviews, these benefits might not outweigh the cost for all businesses.
Upserve POS is a point-of-sale system designed specifically for the restaurant industry: including restaurants, bars, cafes, breweries, bakeries and more. Upserve POS is an all-inclusive platform with point-of-sale functionalities, payment processing and restaurant management features integrated together as part of the service. The Upserve POS software is cloud-based, with an offline mode included and can be run on both iOS and Android devices, as well as Upserve's own tableside tablet.
In addition to the Upserve POS software, Upserve offers a variety of hardware terminal options like EMV readers, tablet stands, printer solutions, kitchen display systems and networking routers. Business owners can choose from one of Upserve's three POS plans: Core, Pro or Pro Plus — each with an increasing number of included features.
Payment processing
One of the most important elements of any POS, Upserve allows you to accept credit card payments, debit cards and cash. Upserve credit card processing is integrated directly into the Upserve POS software, so you can handle everything from ordering to payment using a single platform. Upserve has its own payment service, Upserve Payments, meaning you don't have to work with a third-party payment processor.
With Upserve Payments, you have EMV functionality, certified PCI Level 1 compliance and 24/7 U.S.-based support. Upserve merchant services operates on a flat-rate pricing structure, charging 2.49% plus $0.15 per transaction. Additionally, Upserve Payments works with its restaurant management system (called Upserve HQ) to provide you with insights and reporting on sales, products and labor. Through your Upserve POS software, you can also search for transactions and access transparent batch and deposit information.
Menu management
With the Upserve POS software you can add and customize your menu items and allow servers to search by specific item or menu category. You can easily make edits to your menu at any time — changing modifiers, inputting descriptions or adding a new menu type. You can also set up a menu inventory countdown, so servers will know when a particular item is sold out or unavailable. Sold-out items will be automatically added to an "86ed list" so everyone in the restaurant knows which items are or are not available for customers.
Front of house management
Upserve POS gives servers and workers all the tools they need to manage orders and serve customers. Using an Upserve POS terminal, servers can take orders tableside and send them automatically to the kitchen. Servers can annotate order items to communicate with the kitchen or hold items to be sent to the kitchen later. Additionally, servers can process payments tableside, merge, transfer and split checks, void or comp items and pre-authorize bar tabs. Checks can be signed on screen, and you can customize where receipts (as well as tickets) are printed based on your restaurant layout. For hostesses, you can create a table map to match your restaurant. This map can be adjusted on the go to accommodate busier hours or large parties.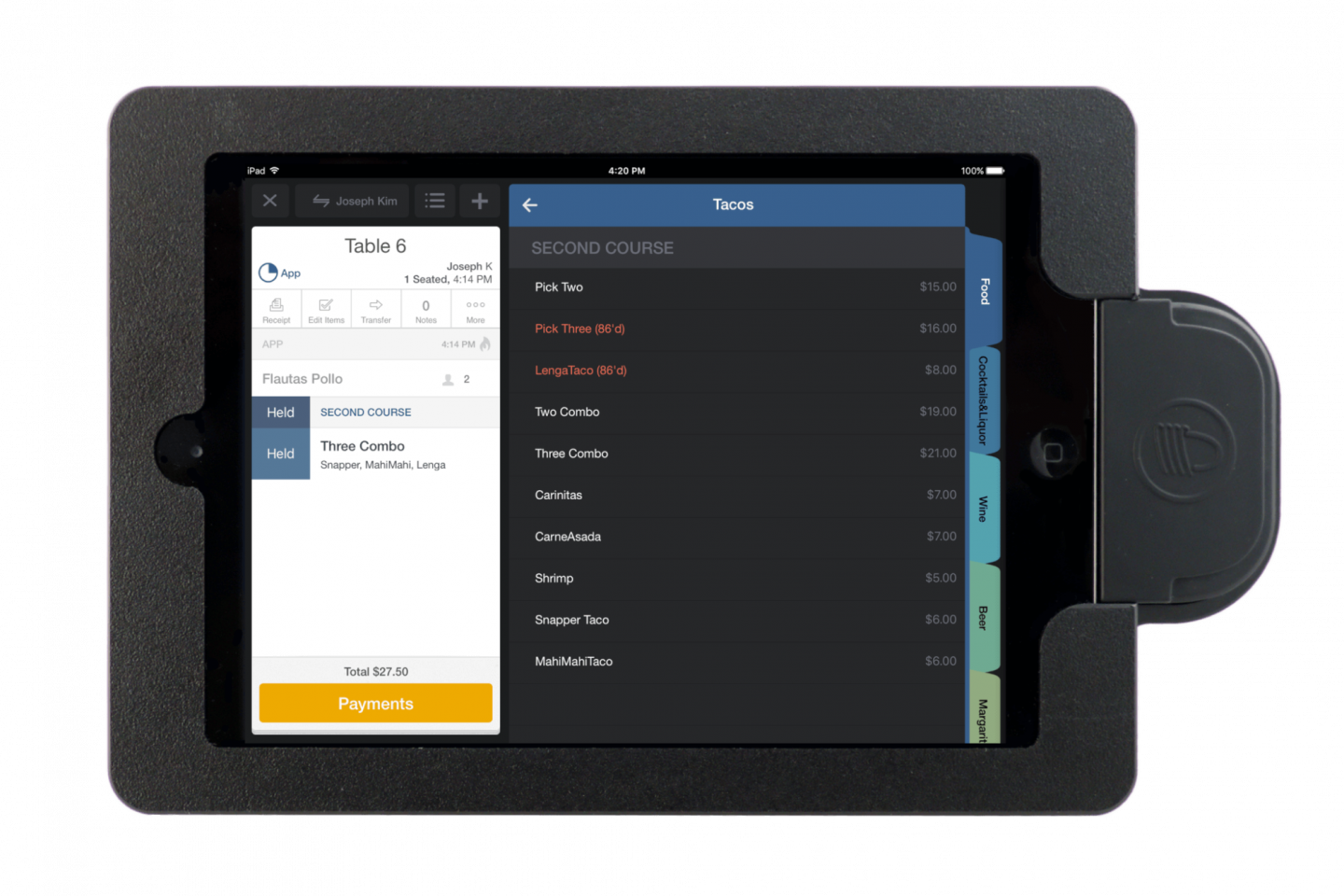 Employee management and training
With your Upserve POS software, you can designate employee roles and permissions and specify particular views, menus and workflows for each different role. You can leave messages for employees directly in Upserve POS and implement training mode for new staff members without disrupting your regular service.
Additionally, with all of the Upserve POS plans, you receive access to Upserve Workforce, an employee time and scheduling tool. With Workforce, you can create and assign schedules, send shifts to employees and manage clock-ins.
Upserve HQ
Upserve HQ is the restaurant management platform that connects your point-of-sale, payments and business insight tools. Upserve HQ runs directly through your POS software to organize all your information in one place. Upserve HQ includes features such as:
Server performance data and labor reporting.

Marketing campaigns and promotions.

Reputation management — access to reviews of your restaurant across multiple sites.

Sales trends, performance and reports.

Void and comp, check and menu item intelligence.

Guest book to store customer information.

Loyalty program development.
You can also access Upserve HQ data from Upserve Live, the POS app included with all Upserve plans. Upserve Live is accessible on both iOS and Android phones, giving you the ability to track your restaurant operations on the go. Upserve Live organizes information from your POS and combines the data with analytics from Upserve HQ. Using this restaurant app, you can access live tracking of guests, sales, labor costs, discounts, historical performance and more.
Integrations
With Upserve POS, you have the ability to integrate with a variety of third-party platforms, as well as additional tools from Upserve themselves. Third-party integration offerings include software for accounting, payroll, reporting, marketing, reservations, gift cards and more.
In addition to Upserve Workforce, you have the option to add on Upserve Inventory, an inventory management tool with functions like recipe costing, vendor management and one-click purchasing.
Implementation and support
To help you get started with your restaurant POS system, Upserve offers a dedicated onboarding team to provide on-site or online assistance setting up your menu and configuring your network and hardware. Upserve POS plans also include complimentary software updates, a dedicated success manager and 24/7 U.S.-based support via phone, chat or email.
The exact functionality that you receive with Upserve POS depends on the plan you choose. Upserve offers three plans for its point-of-sale software: Core, Pro and Pro Plus.
Upserve Marketing (part of Upserve HQ).
If you want to integrate Upserve Inventory or Online Ordering with the Core plan, you can do so at an additional fee for each tool.
The Upserve POS Pro plan consists of all of the features from the Core plan, as well as:
Upserve Loyalty (part of Upserve HQ).
Unlike the Core plan, Upserve's inventory management and restaurant online ordering tools are included in the cost of the Pro plan. The final plan, Pro Plus, has all of the features of the previous two plans, plus custom reporting, data API and enterprise account management.
Hardware compatible with Upserve POS
Upserve offers a variety of POS hardware options for businesses to use with its software. Hardware can be purchased directly from Upserve or from a third party, as long as it's compatible with the Upserve POS software. This being said, Upserve POS is tablet-based, so you will need a tablet (iPad or Android) to use Upserve. Upserve also offers its own tablet device called Upserve Tableside.
Upserve Tableside is a purpose-built tablet that allows servers to take both orders and payments tableside. This device has a 5-inch screen and can clip to a belt or apron. Upserve Tableside has a built-in EMV chip reader and non-slip side grips. Additionally, Upserve offers tablet stands, EMV credit card readers, Epson printers, cash drawers, kitchen display systems and networking routers and extenders.
There are three elements that factor into the total cost of using Upserve POS for your business: software, hardware and payment processing.
First, the cost of your Upserve POS software will depend on which of the three plans you choose. The Core plan costs $59 per month, Pro costs $199 per month and Pro plus costs $359 per month. For each of these plans you'll need to pay a per-terminal monthly cost — for the Core plan it will be $60 per terminal, for the Pro plan it will be $50 per terminal and for the Pro Plus plan, it will be $40 per terminal. Furthermore, if you have the Core plan and want to integrate Upserve Inventory or Online Ordering, you'll have to pay a monthly fee of $99 or $59 respectively.
In addition to the Upserve POS software costs, you'll have to pay for the hardware you need to run your POS system. Upserve POS is tablet-based, so you'll need an iPad, Android tablet or the Upserve tableside tablet. If you already have other hardware tools like printers or card readers, you can check with Upserve to see if they're compatible with the Upserve POS software. Ultimately, your hardware cost will depend on what specific peripherals you need for your business and if you already own any that can be used with this point-of-sale.
Finally, the last piece involved in the overall cost is Upserve credit card processing. Upserve serves as your payment processor, so you don't have to worry about integrating with a third party and incorporating costs from them as well. That being said, Upserve's credit card processing fees are flat-rate, costing 2.49% plus 15 cents per transaction regardless of your plan.
Features
One of the most substantial benefits of Upserve POS is not only the immense amount of features, but also their specificity to restaurants, bars and other food-service establishments. It's clear that Upserve is designed with both restaurant-industry business owners and their employees in mind. With the variety of capabilities included in its POS software — everything from order and table management to insights and reporting from Upserve HQ — you will have the tools you need to handle the full range of restaurant operations and responsibilities.
Ease of use
If you read Upserve POS reviews, or even older Breadcrumb POS reviews, you will find that they're mostly positive — and ease of use is one of the most frequently mentioned pros. Reviewers constantly praise the Upserve POS software as intuitive and user-friendly. Additionally, most Upserve POS reviews report that it's quick and easy to set up this point-of-sale system and to train your employees to use it.
Customer support
Upserve POS offers 24/7/365 U.S.-based customer support for all of its software plans, as well as numerous ways to contact support representatives. You also have the option to use the training videos and help desk knowledge base available on the Upserve website. Additionally, if you need help setting up your POS system, you can get specific assistance from the Upserve onboarding team. Upserve provides all of its account holders with a dedicated success manager. Furthermore, recent Upserve POS reviews and previous Breadcrumb POS reviews consistently report that not only is it easy to access customer support, but the support that they receive is helpful.
Price
Without a doubt, price is the biggest drawback of using Upserve POS. Upserve POS is expensive. The most basic plan, although it includes an impressive feature set, starts at $59 per month, in addition to a monthly $60 per terminal fee. If you want to add online ordering, inventory management or use of the Upserve software on more than one terminal, you're going to incur another significant monthly fee for each of these services. Even though the Pro plan includes online ordering and inventory management, you still have to pay a sizable fee for additional terminals, not to mention the plan is more than 2x the monthly price of the Core plan. At the end of the day, you can find other POS software options (even specifically for restaurants) that are more cost-effective with comparable capabilities.
Payment processing options
Another disadvantage of Upserve POS is the lack of payment processing options. Although it can be useful to have Upserve Payments integrated directly into your POS software, Upserve POS doesn't give you the ability to work with other payment providers or merchant services if you'd prefer to do so. Even though the flat-rate pricing of Upserve Payments is easy to understand, you're locked into this pricing model and prevented from exploring other possible options in the marketplace.
Mobile smartphone and virtual terminal functionality
Although Upserve POS offers a wide variety of reporting and insights features, it's lacking in ways you can actually take payments — especially when compared to many other POS providers. Many other POS services give you the ability to use a mobile card reader to accept credit card payments right on your smartphone. Upserve's Tableside device does indeed allow you mobility while operating your point-of-sale; however, you must purchase this hardware device from Upserve as opposed to simply buying a card reader to add to a smartphone you already have. Likewise, Upserve POS has a mobile app, but it only provides insights based on your POS software and doesn't actually give you POS order and payment capabilities. Similarly, whereas many other points of sale provide (or give you the option to have) a virtual terminal, Upserve only seems to offer physical terminals. Essentially, this means although you can use card readers, you don't have the ability to manually input credit card information into your system and process payment that way.
User reviews
The Upserve POS reviews, as well as older Breadcrumb POS reviews, are mostly positive. When Upserve users do mention cons, they're typically very specific and seem to vary from review to review. Some negatives include: software glitches and connectivity issues, the high cost and a lack of certain customization abilities.
Alternatives to Upserve POS
To determine if Upserve POS is the right point-of-sale for your business, you'll want to compare its services to other providers on the market. Here are two top alternatives to consider:
Square for Restaurants
One of the most popular POS providers for small-business owners, Square offers a POS system designed specifically for restaurants. The Square POS for Restaurants has very similar capabilities to Upserve POS: management for menus, front of house, employees, customers, inventory, as well as reporting and integration functionalities. The Square for Restaurants POS software works with Square's payment processing services and its hardware (iPad required).
Although the feature-set for Square for Restaurants is incredibly similar to Upserve POS, the big difference between these two systems is pricing. Using the Square for Restaurants POS software costs $0, $60 or $299 and up per month, depending on the plan you choose. In terms of credit card processing, Square, like Upserve, requires that you use its processing service and its in-person rate is 2.6% plus 10 cents per transaction. You can enter payments digitally as well, but this will cost 2.9% plus 30 cents per transaction. If price is a deterrent from using Upserve POS, Square for Restaurants is a great alternative — you'll receive similar features for a much lower monthly fee.
Toast POS
For an Android-based alternative, you might look into Toast POS. Like Upserve and Square for Restaurants, Toast provides point-of-sale options specifically for restaurants. Toast POS offers solutions for a variety of businesses in the restaurant industry: bars, bakeries, cafes, fine-dining restaurants and more. The Toast point-of-sale software gives you the ability to create your menu, take and process orders and manage your employees, customer information and inventory. For added monthly fees, you can include gift cards, loyalty programs, delivery and online ordering with your POS.
In terms of hardware options, Toast offers a variety of terminals, including a handheld mobile POS terminal and a guest-facing display that allows customers to enter its orders via the tablet touch-screen. Although a little more expensive per month than Square for Restaurants, the Toast POS subscription fee is much less than Upserve POS, at $79 per month. To add more terminals to your service, it will cost $50 per month, per terminal.
For credit card payments, Toast requires that you use it as your processor. However, Toast does not list its specific processing rates on its website. It simply says that it offers flat rates that are custom-built for your business. If you're looking for a POS system with features designed for restaurants, a lower monthly fee than Upserve and possible flexibility with credit card processing rates, Toast POS is worth considering.
A version of this article was first published on Fundera, a subsidiary of NerdWallet.
News
Syda Productions / Shutterstock.com Millions of workers are not saving enough for retirement — and their states aren't setting…